Starbucks' New Nitro Cold Brew Comes With Beef Jerky on Top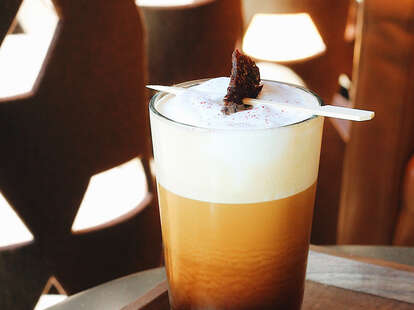 Don't ever accuse Starbucks of low ambitions. The coffee company known for its insane Frappuccino creations, high-end roasteries, and whiskey barrel–aged cold brew is now topping a new coffee drink with a fun, salty snack: beef jerky.
The company is calling the specialty beverage the Pepper Nitro with a Jerky Twist, it's being offered exclusively at the chain's Seattle Reserve Roastery for a limited time.
"With the first sip, you get a hint of the honey cold foam and the aroma of the pink ground peppercorn," said Raegan Powell, of the Starbucks research and development team, in a press release. She helped design the new, weird coffee cocktail. "The real surprise is the salty savoriness of the jerky garnish, an exciting complement to the smooth and sweet finish of the nitro cold brew experience."
Starbucks is using this drink to promote the small-lot coffee that grows in the Democratic Republic of the Congo. In addition to the grass-fed beef that went into the jerky, the main ingredient in the drink is nitro tap-poured cold brew coffee made from Starbucks Reserve Eastern D.R. Congo Lake Kivu beans. The company has partnered with Falcon Coffees to use the beans in their drinks.
"I know of no tougher environments in the coffee world to work in," said Falcon CEO Konrad Brits. "But these Reserve coffees demonstrate the potential of this region to produce truly specialty grade coffees. They show the coffee world that these coffees are worth investing in."
Starbucks is currently selling beans originating from the Congo in stores nationwide for a limited time, including the D.R. Congo Lake Kivu and D.R. Congo Kawa Kabuya. If you brew your own, try topping it with some jerky you find shopping. The coffee company suggests that they pair nicely with savory ingredients.
Sign up here for our daily Thrillist email and subscribe here for our YouTube channel to get your fix of the best in food/drink/fun.