Don't Fall for This Malicious Starbucks Rumor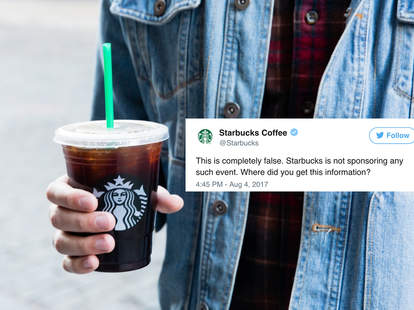 As evidenced by a deal for buy-one-get-one free macchiato drinks running through Monday, Starbucks occasionally fuels your caffeine addiction with promotions for free or discounted drinks. But another so-called discounted coffee deal that circulated on social media in recent days is actually an elaborate and malicious rumor aimed at tricking people. Don't fall for it.
Starbucks said images and social media posts advertising a "Dreamer Day" promotion, involving discounted food and beverages for undocumented immigrants, is "one hundred percent fake," according to a report by the Associated Press. Specifically, at least two ads (here and here) falsely claim undocumented immigrants will receive 40% off any menu item on August 11, while other equally dubious images have circulated as well. One of the posters even misspells Frappuccino as "Frappacino," a clear red flag for anyone who knows their way around a green straw.
While the bogus ads and the concept of the promotion in general are highly questionable, it looks like they misled at least a few coffee drinkers. Over the weekend, Starbucks responded to numerous posts about the bogus discounts on social media, debunking the information:
As a report BuzzFeed News explains, multiple people devised the elaborate scheme last week with the intention of luring undocumented immigrants to Starbucks locations with the phony discounts and alerting Immigration and Customs Enforcement (ICE) officials. They called the plot "Operation #borderfreecoffee day" and some users discussed specific words and phrases on the fake ads to maximize their potential to mislead people. At this point, it's safe to say that plan has been foiled.
Meanwhile, Starbucks' real, legitimate, official 'Meet for Macchiatos' deal is available at most of the coffee giant's locations through Monday, August 7, and is open to everyone in the US. Then again, if this latest internet scam has killed your appetite, well, we don't blame you.
Sign up here for our daily Thrillist email and subscribe here for our YouTube channel to get your fix of the best in food/drink/fun.

Tony Merevick is Senior News Editor at Thrillist and is exhausted. Send news tips to news@thrillist.com and follow him on Twitter @tonymerevick.