Courtesy of Starbucks
Courtesy of Starbucks
Physically, we're still sweating our way through the final weeks of summer, but mentally, we've already passed the sweltering August heat to a simpler time—one with warm coffees and cable knit sweaters. Starbucks has too. The Seattle-based coffee giant is already rolling out its fall grocery store lineup.
Beginning this month, the latte maker is bringing its all-new (and returning) at-home faves to retailers nationwide, and that even includes some never-before-seen Pumpkin Spice products. Now my dairy-challenged friends this is where you're gonna want to stop skimming and start absorbing. Starbucks is dropping a Pumpkin Spice-flavored Non-Dairy Creamer made with a blend of almond and oat milk, pumpkin flavors (naturally), cinnamon, and nutmeg.
Here's what you should be getting really excited about though: the Pumpkin Spice Cold Brew Concentrate, which features a marriage of the chain's smooth blend with your favorite fall flavors. Just add water and—boom—you're in business. "We've cold-steeped our custom blend of coffee with hints of pumpkin, cinnamon and nutmeg flavor to craft this rich concentrate," Starbucks said of its latest release.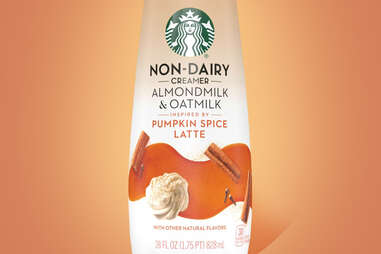 Of course, just because we're getting shiny new innovations doesn't mean we should abandon the old favorites altogether. Let's not forget the seasonal classics, like the classic Pumpkin Spice Flavored Creamer and Pumpkin Spice-flavored coffee—which comes in K-Cup and Roast & Ground form.
Starbucks Maple Pecan-Flavored Coffee and Fall Blend Coffee will both be returning as well. You can snag the K-Cups or Roast & Ground at your local grocery store. We'll just apologize in advance to your go-to barista—they might be seeing a whole lot less of you this year.
Megan Schaltegger is a staff writer at Thrillist.