Starbucks' New Almond Milk Is Finally Available Nationwide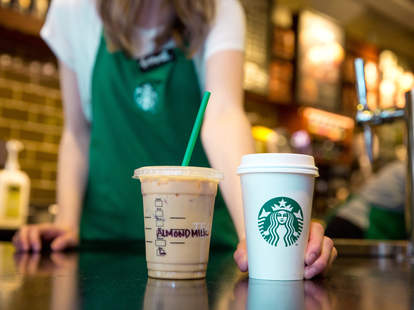 If you can't or don't enjoy regular milk, Starbucks has finally made it way easier to drink its coffee, lattes, and even Frappuccinos with the addition of a popular non-dairy alternative to its menu. The coffee giant announced Thursday -- National Coffee Day, by the way -- that its all-new almond milk option is now available at all of its locations nationwide. 
Starbucks said its new, proprietary recipe almondmilk (spelled as one word to follow industry standards) is designed to "complement" the flavors of both hot espresso drinks like the Pumpkin Spice Latte, iced espresso drinks, and even Frappuccinos. For example, Starbucks barista Hannah Realy-Sanchez said the almondmilk tastes best in iced drinks and recommends ordering a tall iced almondmilk latte with one-and-a-half pumps of white mocha sauce and toffee nut syrup. Others suggest it helps reduce the sweetness of some drinks, according to a press release.
The company first introduced the milk substitute at about 4,600 of its stores in select regions across the country a little more than a month ago, saying an almond milk option was one of the "most requested My Starbucks Idea customer suggestions of all time." The nutty non-dairy option follows the addition of coconut milk to Starbucks menus last year and the longtime soy milk option, which Starbucks introduced in 2004. 
Seeing as coconut milk was the key ingredient in some of the crazy secret-menu "rainbow drinks" that took over your Instagram feed this summer, just imagine what the internet's caffeinated maniacs will create with the new almond milk ingredient. Then again, whatever it is will probably be all over your feeds pretty soon. 
Sign up here for our daily Thrillist email, and get your fix of the best in food/drink/fun.

Tony Merevick is Cities News Editor at Thrillist and rarely drinks actual milk these days, now that he thinks about it. Send news tips to news@thrillist.com and follow him on Twitter @tonymerevick.