Starbucks Is Giving Out Free Coffee to Those on the Frontline of the Coronavirus Outbreak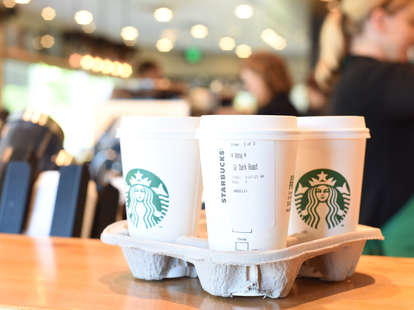 While most of us do our civic duty and stay indoors, occupying social distancing days with time-killers like virtual tours of historical museums, our healthcare workers and first-responders are making history on the frontlines of the coronavirus. And although we'll be forever in their debt, Starbucks is trying its best to show a little bit of gratitude, by offering free iced or hot coffee to all frontline workers across the U.S and Canada.
The coffeehouse chain announced Wednesday that "any customer who identifies as a first responder or frontline worker supporting our healthcare system" will receive one tall brewed coffee (per visit) from March 25 to May 3. Those eligible include police officers, firefighters, paramedics, doctors, nurses, researches, and hospital/medical staff.

The move comes after Starbucks CEO and President Kevin Johnson wrote in an open letter that, on Friday, March 20, all company-operated Starbucks stores in the U.S. and Canada shifted exclusively to drive-thru operations.
"Something incredible happened" across the continent that Saturday, he wrote.
"Our partners in every region around the U.S. and Canada showed up before dawn to open drive-thru-only experiences at their stores," Johnson wrote. "They filled in for each other at short-staffed nearby stores. Our stores that could open, did."
The decision to give out free coffee was "directly inspired" by the efforts and enthusiasm of the company's employees, a Starbucks rep wrote in a press release.
Heather, a Starbucks store manager from Coeur d'Alene, Idaho, told the company that her location is donating coffee to first responders at the nearby hospital.
"We are located right next to our hospital and it is our goal for them to have a place to come to get away and have some normalcy," she said. "We also have been surprising them daily with our pastries we donate at the end of the night plus Joe to go."
Shift supervisor Jordan from Katy, Texas told a heart-warming tale of creative philanthropy that turned into an opportunity for her coffeeshop to give back.
"We asked our customers if they would like to purchase a bag of coffee to donate to our local first responders. Fifty-four of them said yes within a two-hour timespan."
One customer, Trey, turned out to be a first responder himself--he was one of the captains at the local fire station. Jordan asked if his crew would be interested in a donation, and he said "absolutely."
"He sent his crew by in the big red truck to pick up the donation today, Jordan said. "They were so thankful to us and they were really taken aback by the support from the community."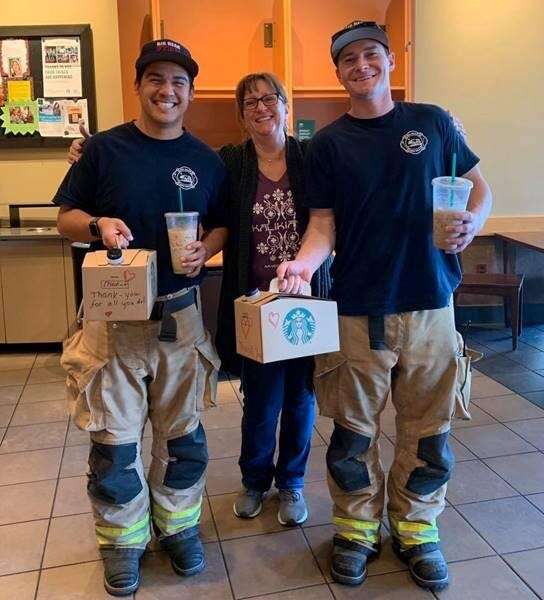 Store manager Michele from Redlands, California said that, while she was doing a final checklist to prepare for her store's closing, she noticed some paramedics "wandering about," and offered them coffee and chai lattes.
"We so appreciate all of our first responders," Michele said. "Medical staff and grocery workers too! I'm so proud of all of our partners and how naturally we come together in times of need. Let's all do our part so we can reopen all of our doors and get back to living even more compassionate lives!"
Sign up here for our daily Thrillist email and subscribe here for our YouTube channel to get your fix of the best in food/drink/fun.