Starbucks' New Holiday Frappuccino Is Here for Only 4 Days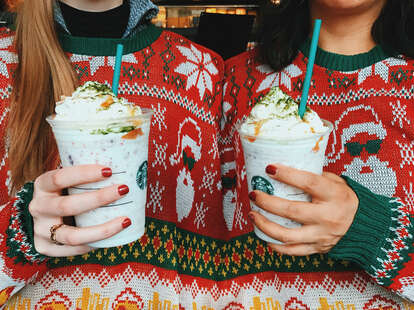 Just in time for holiday festivities this weekend, National Ugly Sweater Day is Friday, December 16th. And while you absolutely should break out your tackiest, kitschiest, and most absurd warm attire for the occasion, Starbucks has another way you can celebrate: an all-new holiday Frappuccino that's appropriately tacky.
It's called the Fruitcake Frappuccino, and it's designed to taste like the edible holiday gift nobody ever asks for, but still eats anyway after Clark Griswold-ing a few glasses of eggnog. Or something like that. Starbucks said it's made by taking a Hazelnut Crème Frappuccino and adding dried fruit and cinnamon. The drink is finished with whipped cream, ornate dots of caramel sauce, and a sprinkle of matcha green tea powder on top.
The coffee giant's army of festive red apron-clad baristas are making the new blended drink starting on Thursday, December 15th, but it's only available through the weekend, according to a press release. Starbucks Rewards members who buy one on Friday, National Ugly Sweater Day, will get a free ugly sweater beverage cozy as a gift while supplies last. And if you really want to go all out, Starbucks is also selling six-packs of its Ugly Sweeter gingerbread cookies though the holidays.
In any case, you're probably going to need way more than just an ugly sweater this weekend. It's going to be stupidly cold out there.
Sign up here for our daily Thrillist email, and get your fix of the best in food/drink/fun.
Tony Merevick is Cities News Editor at Thrillist and is just going to stick with hot drinks for now. Send news tips to news@thrillist.com and follow him on Twitter @tonymerevick.