Starbucks Left a Holiday Classic Off Its Drink Menu This Year
Luckily, there are a few worthy alternatives.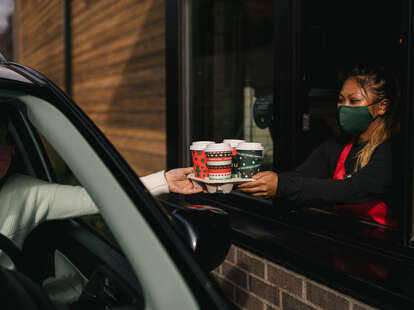 Photo courtesy of Starbucks
Starbucks' holiday menu returned last week, bringing back fan-favorites like the Peppermint Mocha and Eggnog Latte, but one classic drink was notably absent. The Gingerbread Latte vanished after the 2018 holiday season, and for the second winter in a row, Starbucks confirmed it would not be available in US markets in 2020.
Gingerbread is one of the season's most popular flavors—right alongside peppermint and chestnut—and Starbucks' Gingerbread Latte did it well, combining sweet and spicy gingerbread flavors with espresso, steamed milk, whipped cream, and ground nutmeg.
What's a spice lover to do when Starbucks lets another Gingerbread-less year go by? Look for new holiday faves! Fortunately, there are some worthy options in season right now.
Even though Starbucks denied fans' requests to revive the Gingerbread Latte this year, the company has plenty of other seasonal options to enjoy, like the Peppermint Mocha, Eggnog Latte, Caramel Brulee Latte, Chestnut Praline Latte, and Toasted White Chocolate Mocha.
If you're married to gingerbread, you're not completely out of luck. The Cinnamon Dolce Latte and Chai Latte have a similar appeal, relying on overlapping spices like cinnamon and cloves. And with a few alterations, a Caramel Ribbon Crunch Frappuccino gets a seasonal makeover.
Of course, you can also look elsewhere for gingerbread specials.
Dunkin's holiday menu features three seasonal drinks, and one of them is, you guessed it, the Signature Gingerbread Latte, topped with whipped cream, caramel drizzle, and cinnamon sugar. Its other drinks, the Signature Peppermint Mocha Latte and Chai Oatmilk Latte, are plenty drinkable, too.
The Coffee Bean & Tea Leaf has two gingerbread confections on its holiday menu, plus six seasonal drinks that don't have gingerbread, but do have other lovable flavors involving red velvet, cookie butter, and peppermint.
And when all else fails, you can find decorative gingerbread cookies in stores. Trader Joe's is selling turkey-shaped gingerbread cookie decorating kits for the Thanksgiving season, and Costco upped the ante with a pre-built gingerbread mansion that comes with a whole pound of icing and candy.
Starbucks may have stripped away one source of holiday joy, but there's still plenty to be merry about. Don't feel hopeless just yet.
MORE: Here's What Starbucks' Holiday Cups Look Like This Year
Sign up here for our daily Thrillist email and subscribe here for our YouTube channel to get your fix of the best in food/drink/fun.