All Frappuccinos Are 50% Off at Starbucks Today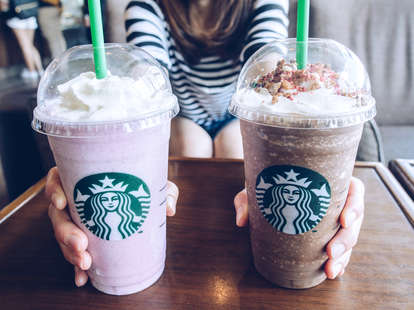 Boyloso / Shutterstock.com
Look, we know you're grimacing about the return of Pumpkin Spice Lattes harder than Spider-Man watching the breakup of his parents. But summer isn't over and pumpkin season isn't here yet, no matter what Hormel wants you to believe.
Fortunately, when you stop in for this week's Starbucks Happy Hour, the pervasive smell of Spice won't quite yet be washing over you, causing you to smell like your aunt's bathroom potpourri bowl. Instead, when you stop by on Thursday, August 22, you'll be getting 50% off any Frappuccino blended drink size grande or larger from 3pm to close. The offer excludes any pre-bottled beverages and is only available at participating locations. Be sure to call ahead if you're not sure whether or not your local shop participates.
The BOGO offers during Starbucks Happy Hour seem to be more popular, but half-off is basically the same thing. In fact, it's arguably better because you only have to buy one drink instead of two. If you're with a friend who wants a cheap Frap as well, they'll just have to download the app.
Here's how to get the deal: Download the Starbucks mobile app. When you open it, you'll find the offer in your inbox. You do not have to be a rewards member to take advantage of promotions in the app. However, you will get points toward more free drinks if you are a member, and it's free to join. While you could once just get the discount through email, that has changed. Happy Hour is now only available through the app.
Take the opportunity to sip a S'mores Frappuccino, which -- with its swirls of chocolate, marshmallow, and graham cracker -- is decidedly more seasonally appropriate than anything containing pumpkin and nutmeg. Plus, as a bonus, you'll not only be running on caffeine but a sugar high.
Sign up here for our daily Thrillist email and subscribe here for our YouTube channel to get your fix of the best in food/drink/fun.