Starbucks Is Giving Out Free Iced Drinks Today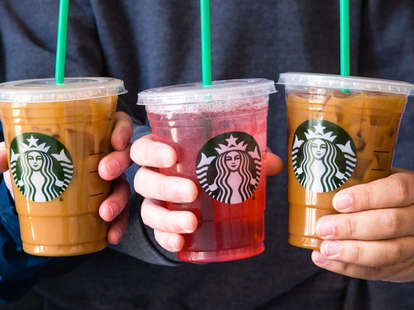 Cole Saladino/Thrillist
Cole Saladino/Thrillist
If the summer heat and long week before the start of the Perseid meteor shower have you feeling muzzy, there's hope for you. Starbucks is running another of its occasional Happy Hour promotions that can land you a free drink today. (OK, there's always hope, and coffee isn't really that hard to find. Nonetheless!)

On Thursday, August 8, the Tie Dye Frap slinging coffee chain is offering a big ol' caffeine boost to push you through the afternoon slump. This Happy Hour will land you buy-one-get-one-free (BOGO) iced drinks, size grande or larger, after 2pm local time. These promotions often start at 3pm, but it's worth noting that this week's deal starts an hour earlier, according to a company spokesperson. As always, the Happy Hour promotion is only available at participating locations, so check ahead before you waste your afternoon break going somewhere that isn't dishing up a freebie with your afternoon coffee.
The promotion on iced drinks includes cold brew, iced coffee, iced espresso drinks, Starbucks Refreshers, iced tea, and specialties like the Cloud Macchiato.
Here's how to get the deal: Download the Starbucks mobile app. When you open it up, the offer will be hanging around in the in-app inbox. You do not have to be a rewards member to take advantage of the promotion, though you do get points toward more free drinks if you're a member. Downloading the app and signing up for the rewards program is free, less any personal information you share with the company. You can no longer get the Happy Hour offers via email without the app.
This is a perfect time to pay back that coworker who covered for you when you slunk off early on a Friday this summer.
Sign up here for our daily Thrillist email and subscribe here for our YouTube channel to get your fix of the best in food/drink/fun.