Starbucks Is Giving Out Free Drinks Today & Pretty Much Everything Is Fair Game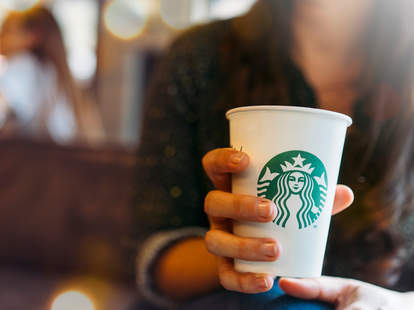 It's the one week every year where thousands have simultaneously procrastinated over the exact same thing. You might benefit from a little caffeine boost to carry you through all that last-minute shopping, and Starbucks has a Happy Hour deal on Thursday that will get you just that. 
Everyone can take advantage of a buy-one-get-one-free (BOGO) deal on all handcrafted drinks size grande or larger on December 19. The deal will run from 2-7pm local time at most locations all across the country. Unlike how the Starbucks Happy Hour was once structured, you can now get any handcrafted drink you'd like with the deal. You can get a strong Americano if you just need the caffeine now or something seasonally-appropriate like a Peppermint Mocha if you're really getting in the spirit of the season. 
Here's how to get the deal: Open the Starbucks mobile app -- you have to have the app to participate in Happy Hour -- open your account to find the offer in your inbox. You don't have to be a rewards member to get the BOGO deal. Though, of course, you will get points toward even more free drinks if you're a member. It's free as long as you don't count the data you're going to have to share to be a member.
If you're lucky, you might even see something this wonderful during your next Starbucks trip. 
Sign up here for our daily Thrillist email and subscribe here for our YouTube channel to get your fix of the best in food/drink/fun.