Starbucks Is Giving Out Free Drinks Today & Almost Everything Is Up For Grabs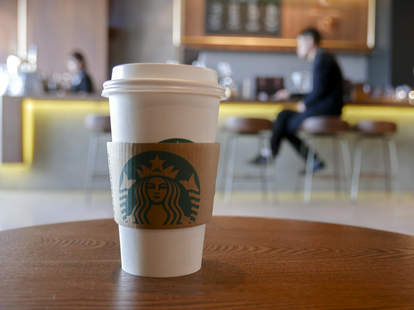 Zhang Peng/LightRocket via Getty Images
Brace yourself, there's some bad news headed your way: This week is somehow not over. Yes, it's only Thursday, and if you've somehow avoided losing your mind, Starbucks has a free drink deal that might help you get through the rest of this interminable week.
On Thursday, February 6, Starbucks is bringing back its beloved Happy Hour. The alcohol-free afternoon pick-me-up will offer a buy-one-get-one (BOGO) deal on all handcrafted drinks size grande or larger from 2-7pm local time. "Handcrafted drinks" may sound vague, but it means you can grab just about anything off the menu that isn't pre-made like the bottled Frappuccinos. Most locations participate in the deal, but if you haven't seen your local shop join in, call ahead to be sure it offers the happy hour.
Here's how to get the deal: Open the Starbucks mobile app -- you have to have the app -- and you'll find the offer in your inbox. You don't have to be a rewards member to get the BOGO deal. Though, you land points toward even more free drinks when you're a member. Signing up is free, less the data you have to share with the company. 
No one can promise it'll stop your coworkers from telling stories about their cat. However, doubling your caffeine may help you stay awake through those stories.
Sign up here for our daily Thrillist email and subscribe here for our YouTube channel to get your fix of the best in food/drink/fun.