Starbucks Is Giving Out Free Drinks Today & Nearly Everything Is Up For Grabs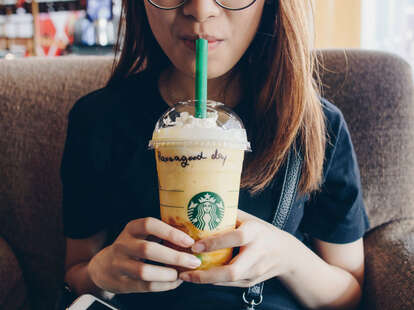 Shutterstock.com
Shutterstock.com
Don't panic. There was a Starbucks Happy Hour last week, so it'd be fair to assume you aren't getting your favorite Thursday freebie again this week. Just like the time you said Marvel will never make a bad movie, you're incorrect.
Happy Hour is back on Thursday, February 13. The booze-free promotion runs for five hours, 2-7pm local time, and offers a buy-one-get-one-free (BOGO) deal on all handcrafted drinks size grande or larger. The label sounds a bit like marketing speak, but "handcrafted drinks" basically means you can get anything that's not pre-made in a bottle, like the bottled Frappuccinos.
A whole lot of locations participate in Happy Hour, but if you haven't seen your local shop join in the festivities in the past, call ahead to be sure it does Happy Hour.
Here's how to get the deal: Open the Starbucks mobile app -- you need the app -- and you'll find the offer in your inbox. You don't have to be a rewards member to get the BOGO deal. Though, you will land points toward more free drinks when you're a member. Signing up is free, less the data you have to share with the company.
It's an easy way to get your late-afternoon caffeine fix and buzz around the office asking people about their favorite cinematic staircases. It'll confuse them and you'll have the energy to see the schtick through to the end.
Sign up here for our daily Thrillist email and subscribe here for our YouTube channel to get your fix of the best in food/drink/fun.