Starbucks Is Giving Out Free Drinks Today & Almost Everything Is Fair Game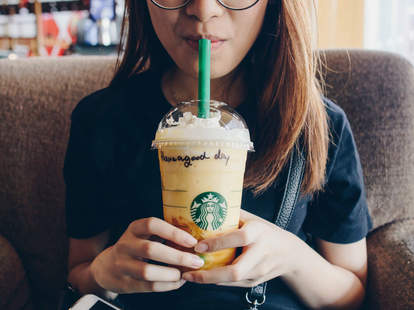 No excuse is required when you a.) need a little extra caffeine halfway through the day or b.) simply need an excuse to leave the office for a few minutes.
You've got ways of taking care of one or the other, undoubtedly. However, you could also nail both of them with Starbucks Happy Hour, which is back on Thursday, November 21. The booze-free happy hour lands you a buy-one-get-one-free (BOGO) deal on handcrafted drinks size grande or larger from 2-7pm local time at participating locations. That's good on whatever you're looking for. Mochas? Check. Hot chocolate? Check. The favorite drink of every melting snowman, a flat white? Check.
Here's how to get the deal: Open or download the Starbucks mobile app to find the offer in your inbox. You don't have to be a rewards member to get the deal. However, you do get points toward more free drinks if you are a member. It's free to sign up, but you have to fork over a little personal information. So, it's free as long as you don't mind them collecting a little data about you.
Share with a friend or drink coffee until you've got the jitters. Your call. Either way, you're winning Thursday.
Sign up here for our daily Thrillist email and subscribe here for our YouTube channel to get your fix of the best in food/drink/fun.