Starbucks Holiday Cups Are Here, and People Are Bracing for the 'War on Christmas'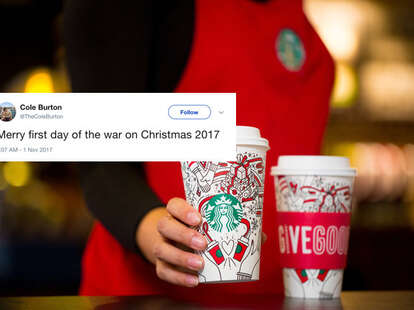 Courtesy Starbucks (edited)
Starbucks holiday cups emerged from hibernation on Wednesday to unleash both the coffee giant's holiday drink lineup and, potentially, some festive rancor across the internet. This year, the seemingly innocuous cups are mostly white and peppered with holiday-themed doodles that you can color in yourself, but that doesn't mean the company won't unwittingly provoke a "War on Christmas" -- whatever that means -- once we edge closer to the holidays.
Starbucks' ability to offend conspiracy theorists, who get legitimately mad at coffee cups, has basically become an annual tradition as American as NASCAR and giant, dancing hot dogs. So it's only natural that people are already bracing for the controversy to return this year, because the internet is a self-perpetuating echo chamber of thumbnails yelling about cups:
All of this commotion, and it's still early days to tell if the War on Christmas™ will actually come to fruition this year. A lot of people are still very excited that Starbucks' slate of holiday drinks are back, and so far it's mainly people mocking the specter of outrage that typically flares up during the holidays, rather than the frenzied pile-ons we've seen in the past.
In any case, it's never too late to drown yourself in a peppermint mocha and pull up a chair to watch the ensuing drama unfold. Happy holidays!
Sign up here for our daily Thrillist email and subscribe here for our YouTube channel to get your fix of the best in food/drink/fun.

Sam Blum is a News Staff Writer for Thrillist. He's also a martial arts and music nerd who appreciates a fine sandwich and cute dogs. Find his clips in The Guardian, Rolling Stone, The A.V. Club and Esquire. He's on Twitter @Blumnessmonster.