Starbucks Dodges Holiday Controversy, Asks You to Color Your Own Damn Cup
A Christmas tree. A stack of presents. A bunch of floating snowflakes. Starbucks' new holiday cups are covered with all sorts of ultra-festive doodles this year. What you won't find on the iconic — sometimes controversial — caffeine vessels, however, is much red. In fact, the 2017 holiday cup design is mostly white.
For the first time, Starbucks is leaving you to color and illustrate the cups yourself, so you can make them as bright and colorful and Christmas-y as you damn please. The coffee giant officially unveiled the new cups alongside the annual return of its holiday drink lineup on Wednesday, November 1, or about two weeks after rogue baristas seemingly spoiled the surprise by leaking the then-secret design on social media. This is the first time Starbucks has released a color-in holiday cup, according to a press release.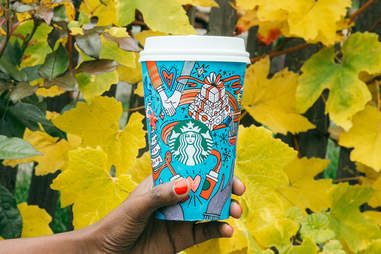 Courtesy of Starbucks
As you can see in photos of the cups (shown above), they feature a pair of hands holding red cups (maybe last year's design?), festive ribbons, and other joyous holiday scenes. The only colors you'll find when your barista hands your drink over are splashes of red and green. The rest is up to you to decorate with ornaments, wreaths, mistletoe, Festivus Poles, and more. So, uh, maybe bring some markers on your next coffee run?
"This year's cup is intentionally designed to encourage our customers to add their own color and illustrations," Leanne Fremar, executive creative director for Starbucks, said in a statement. "We love the idea of everyone making this year's cup their own."
Along with the coloring canvas, the cups come with a bright red (there it is!) cardboard sleeve bearing Starbucks' "Give Good" holiday theme. Last year, the company did all the work for you by putting 13 different designs on its decidedly red holiday cups. In 2015, Starbucks faced criticism from some customers when it introduced minimalist red ombre holiday cups.
Of course, they're just cups. You're going to throw them away. The best part about their arrival is that you can finally get your hands on your first Gingerbread Latte, Peppermint Mocha, Caramel Brulée Latte, and Chestnut Praline Latte of the season. You know what to do.
Sign up here for our daily Thrillist email and subscribe here for our YouTube channel to get your fix of the best in food/drink/fun.

Tony Merevick is Senior News Editor at Thrillist and is going to draw a Festivus pole on his next Starbucks cup. Send news tips to news@thrillist.com and follow him on Twitter @tonymerevick.