Here's How Starbucks Holiday Cups Have Changed Over the Last 20 Years
As you're taking advantage of the buy-one-get-one deal on holiday drinks at Starbucks over the weekend, you'll be cradling the latest edition of the chain's popular holiday cup series. Every year Starbucks unveils a new design to the delight and furious wrath of coffee lovers. Somehow, the coffee cups always manage to infuriate people who are capable of being enraged about the design of coffee cups.
Lost in all the drama is that Starbucks has now been offering special holiday designs for 20 years. The first cup debuted in 1997. Most people don't know what the original cups looked like for a few reasons. It's a weird brand of hoarding to store damp coffee cups for 20 years. Additionally, 1997 was before your neighbor decided there's no such thing as too much information, and began Instagramming bathroom time.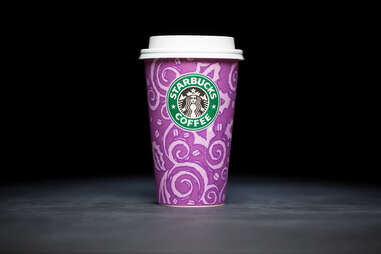 Even more surprising, Starbucks doesn't have the original design files. The electronic files were lost in a 2001 earthquake.
However, former Starbucks Creative Studio designer Sandy Nelson has ferreted away one of every cup, among other Starbucks mementos from her time with the company.
Her time there included designing the very first holiday cup. "It was August, and I had just started with the company," Nelson said. "We were working on holiday creative for the season to come. We had what felt like a hundred cup designs pinned up on the wall. Then Howard [Schultz] came by, looked at all of them, and picked my design. I couldn't believe mine was chosen."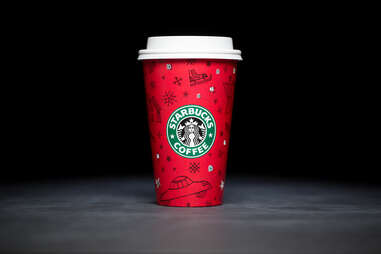 The first cup wasn't the classic red you're familiar with, it was magenta. Though, it also came in sapphire, emerald, and amethyst. The cups really took off two years later when the color was changed to candy-apple red. "There was a response to that shade of red," said creative design manager Jon Cannell. "It was a joyous color, and it really resonated with customers."
Take a look below to see the full lineup of every year's holiday cup stacked together, as well as a couple variants from 1997.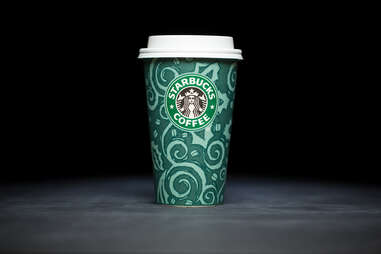 Sign up here for our daily Thrillist email, and get your fix of the best in food/drink/fun.
Dustin Nelson is a News Writer with Thrillist. He holds a Guinness World Record but has never met the fingernail lady. Follow him @dlukenelson.