Starbucks' Holiday Drinks & Cups Are Officially Back. Here's What's New.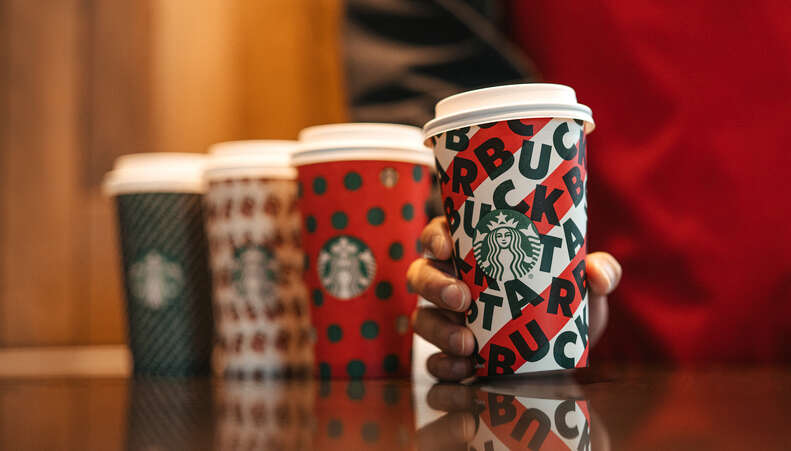 Whether you're ready for it or not Pumpkin Spice Latte season is about to transition into Peppermint Mocha season. Starbucks announced the return of its beloved holiday coffee drinks and iconic holiday cups on Wednesday, so uh, sound you sleigh bells. Or something like that.
If you've been on the nice list all year, you can treat yourself to any of your seasonal favorites -- the Peppermint Mocha, Toasted White Chocolate Mocha, Caramel Brulée Latte, Chestnut Praline Latte, and Eggnog Latte -- starting on Thursday, November 7, according to a spokesperson for the chain. And like every year, there will be a brand new lineup of holiday cups.
There are four new holiday cup designs (each shown below), which Starbucks said "evoke mini moments of joy for our customers and partners." We're not exactly sure about "mini moments of joy," but we suspect they'll at least net you a few extra likes on Instagram.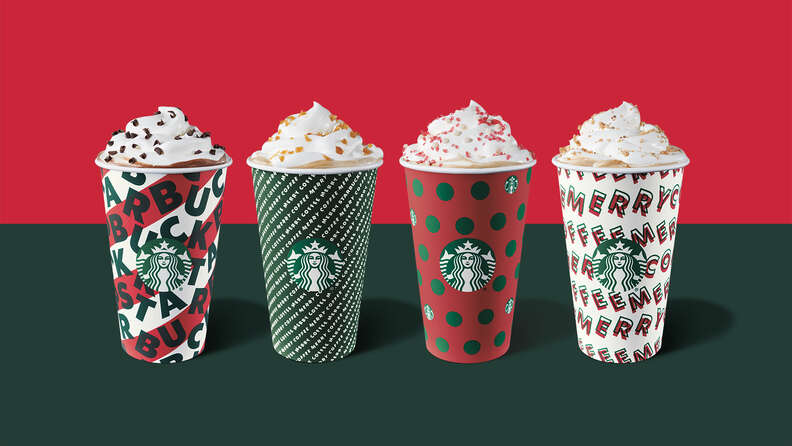 Because Starbucks doesn't have an ounce of shame when it comes to this kind of thing, each cup design has a name and description:
Candy Cane Stripes: The colors of the holiday all come together with this design as the Starbucks wordmark falls like snow against stripes of candy cane red and white.
Merry Stripes: From a distance, this cup looks like it's wrapped in green vintage wrapping paper. But up close, its tiny type offers a happy sentiment.
Polka Dots: The traditional Starbucks red cup is dotted with green, with the Siren logo playfully popping in here and there.
Merry Dance: A lively pairing of red and green letters jazz up a snowy white cup with a joyful expression.
In addition to the new designs, Starbucks is bringing back its wildly popular reusable holiday cup that scores you a discount on drinks. Order a holiday drink at Starbucks on November 7 and you can get on of the reusable cups (available in two designs, white or red) for free, while supplies last. If you can get your hands on one of the reusable cups before they sell out, you'll get 50 cents off every grande handcrafted drink you get in it through January 7, 2020. So if there's one holiday cup you should actually care about this year, it's this.
As for drinks, there's no sign of anything new this year, though Starbucks hasintroduced new holiday drinks in the weeks after the usual lineup's launch in the past. But, hey, there's nothing quite like getting into the festive mood by gripping a red Starbucks cup and getting a whiff of the toasty spices melted into a syrupy sweet latte. If the holiday drinks aren't your cup of coffee, the Pumpkin Spice Latte will also remain on the menu, alongside the new Pumpkin Cream Cold Brew, likely for the remainder of the holiday season.
Now we're just waiting for Starbucks to release a peppermint or gingerbread cold brew, which doesn't seem too farfetched considering how successful the fall launch was -- and how popular cold brew has become.
Sign up here for our daily Thrillist email and subscribe here for our YouTube channel to get your fix of the best in food/drink/fun.
Kat Thompson is a staff writer at Thrillist. Follow her on Twitter @katthompsonn.