Forget snow, forget presents, forget candy canes, you know the holidays are upon us when Starbucks' red cups come to town. Hear that, guys? Christmas isn't cancelled! The tradition of a decorative cup has been in effect since 1997, signifying the return of what's known in some circles as "the holidays," but this year the coffee behemoth is going for a more simplistic look.
"In the past, we have told stories with our holiday cups designs," says Starbucks vice president of Design & Content, Jeffrey Fields, "this year we wanted to usher in the holidays with a purity of design that welcomes all of our stories."
Recommended Video
This Coffee Shop is Harry Potter-Themed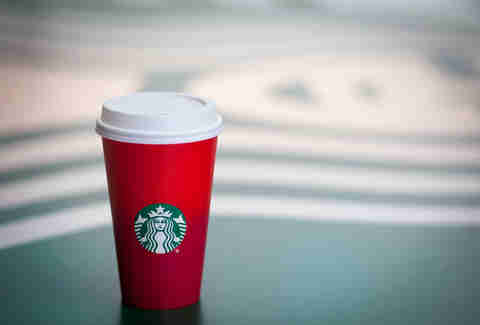 Fields further explains the idea behind the design of those godly vessels which bring us our peppermint mochas and pumpkin spice lattes.
"This year's iconic red Starbucks cup features a two-toned ombré design, with a bright poppy color on top that shades into a darker cranberry below. We have anchored the design with the classic Starbucks holiday red that is bright and exciting." 
Bet you never thought you'd read an entire article full of quotes about how Starbucks changed the coloring of its holiday cups, did ya?

Sign up here for our daily Thrillist email, and get your fix of the best in food/drink/fun.
Jeremy Glass is a writer for Thrillist and has a dangerous thirst for pumpkin spice and human flesh.