Starbucks Just Added an All-New Cold Brew Flavor for the Holidays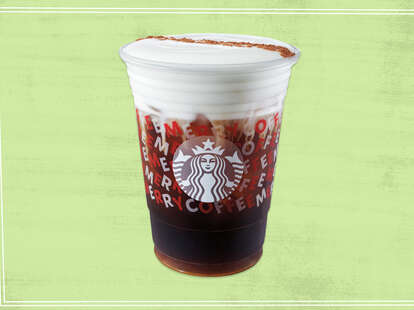 Edited - Courtesy of Starbucks
Edited - Courtesy of Starbucks
Starbucks Cold Brew coffee is a menu staple, regardless of the season. And what's not to love? Cold brew coffees are much more coffee-forward yet smoother than your typical iced coffee. So, when the coffee chain unleashes a new, flavored twist on cold brew -- like it did for pumpkin spice season this fall -- it's worth paying attention. The latest flavor? Irish Cream.
For everyone who's looking for a festive drink that's markedly more refreshing than, say, a Peppermint Mocha or Eggnog Latte, Starbucks has introduced its first-ever Irish Cream Cold Brew. The new drink, which hits locations nationwide on December 3, is a huge win for Team Cold Brew. It's made with Starbucks' signature cold brew, topped with whipped cold foam that's infused with a newly developed Irish cream syrup. To finish it off, baristas dust the frothy drink with a stylish stripe of cocoa powder.
MORE: Starbucks killed off one of its beloved holiday drinks this year.
This is not the first time Starbucks has introduced a holiday-themed take on cold brew. In 2016, the chain offered a Spiced Sweet Cream Cold Brew for the festive season. Considering the popularity of its Pumpkin Cream Cold Brew, a lighter and decidedly less sweet way to get in on the Pumpkin Spice Latte mania earlier this fall, it's no surprise that the 'bucks is looking for another hit with the new Irish Cream flavor.
Irish Cream Cold Brew itself is technically the new addition to the menu, but Starbucks told Thrillist that you can customize all sorts of drinks with the new Irish Cream syrup. So if you are the type who prefers sugary lattes, you can definitely order your own Irish Cream latte customized to your liking.
Depending on where you get it, the new Irish Cream Cold Brew clocks in at $4.45 to $4.75 for a grande and contains 200 calories, so it's not as heavy as your usual winter classics. If you're mourning the loss of the Gingerbread Latte, why not try something new to replace it?
Sign up here for our daily Thrillist email and subscribe here for our YouTube channel to get your fix of the best in food/drink/fun.
Kat Thompson is a staff writer at Thrillist. Follow her on Twitter @katthompsonn.