We Tried Starbucks' New Irish Cream Cold Brew. Here's What We Thought.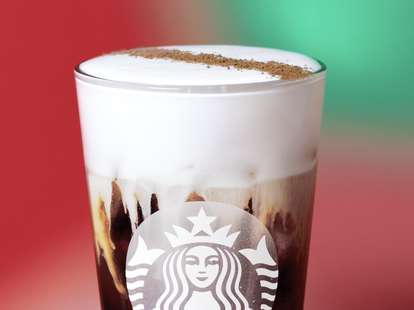 Edited - Courtesy of Starbucks
Edited - Courtesy of Starbucks
When Starbucks officially unveiled its all-new Irish Cream Cold Brew on Tuesday, the Gingerbread Latte-shaped hole in our hearts finally started to heal. The cold coffee drink, which appears to be straight out of the coffee giant's playbook of late, is the perhaps the opposite -- if not the antidote -- to its traditional lineup of super-sweet, hot, and spicy holiday beverages.
Like the Pumpkin Cream Cold Brew the chain debuted alongside the return of the Pumpkin Spice Latte this fall, Irish Cream Cold Brew is a fragrant, subtly sweet version of Starbucks' popular cold brew coffee. The drink's whipped foam topping takes the drink to the next level, while the cold brew provides the significant jolt of caffeine you're looking for. We got an early taste to see if it's as refreshing as it sounds.
How does Irish Cream Cold Brew taste?
Here's the thing: The Irish Cream Cold Brew does not taste very festive to me.
For one, it's a cold brew, so there's no warm and fuzzy feelings whilst sipping it like there is when tasting a Peppermint Mocha. I didn't grow up with Irish cream or Baileys as a holiday staple, so there also isn't a sense of nostalgia associated with the flavor for me, although others who stirred Irish cream in their coffees or drank it for dessert with family and friends may feel differently.
But in the grand scheme of things, none of this matters. The Irish Cream Cold Brew is delicious. In fact, I prefer that the cold brew doesn't use nostalgia as a crutch to taste good. It is good for the sake of being good -- creamy and subtly sweet on top, while bitter and balanced beneath the cloud of foam. This is a drink the Grinch would like.
The build of the drink is similar to that of the Pumpkin Cream Cold Brew. Beneath the whipped topping is the same, smooth coffee you can normally get from Starbucks. Instead of the pumpkin syrup infused into the foam, however, this version is made with a newly developed Irish Cream syrup and a dusting of cocoa sits on top. The Irish cream syrup is aromatic without being cloying -- a toothsome offering that's easy to drink. I couldn't detect any bitter or woodsy whiskey flavors and that's OK. The whole thing felt purposeful and ethereal and the cocoa provided some welcomed chocolate notes.
If you are the type, like me, to prefer a hot beverage during the winter months because it's freezing outside, the Irish cream syrup can be added to any of your favorite drinks, so feel free lean into the limited time offering and order an Irish cream latte or hot chocolate pumped with Irish cream.
The Irish Cream Cold Brew -- and syrup -- are only around for the season while supplies last, according to a Starbucks spokesperson. That usually means through early January. Snag yourself one before they run out.
Sign up here for our daily Thrillist email and subscribe here for our YouTube channel to get your fix of the best in food/drink/fun.
Kat Thompson is a staff writer at Thrillist. Follow her on Twitter @katthompsonn.