Starbucks Just Put a Tropical Twist on a Classic Espresso Drink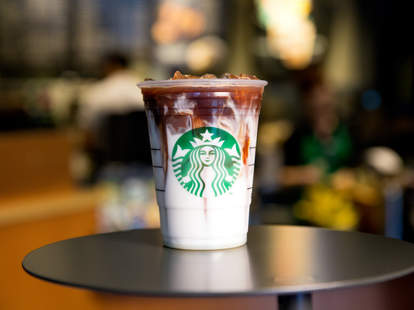 Although it's only been a few days since Starbucks unleashed a bold new twist on its blended Frappuccino drinks, the coffee giant has already unveiled yet another new drink, and this time, it puts a refreshing twist on a classic espresso beverage. With coconut milk.
The new drink, aptly dubbed the Iced Coconut Milk Mocha Macchiato, is Starbucks' first iced espresso drink to include coconut milk since Starbucks added the popular dairy alternative to its menu. It'll arrive in Starbucks locations across the US and Canada on Tuesday, July 12th, along with the new Teavana Shaken Iced Berry Sangria Herbal Tea (we'll get to that in a minute). 
In a press release, the company describes the new macchiato (which means "marked" in Italian) as, "espresso shots poured over chilled coconut milk and combined with a hint of white chocolate mocha sauce. The beverage is finished, or marked, with caramel sauce in a double crosshatch pattern and a swirl of mocha sauce to create five layers of espresso sweetness."
But, of course, that's not the only new summer-oriented drink Starbucks has up its non-existent green apron sleeves.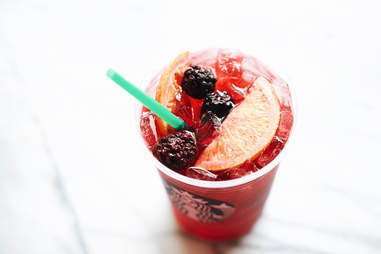 Courtesy of Starbucks
Although it has sangria in its name, the new Teavana Shaken Berry Sangria Herbal Tea lacks the alcohol content you might associated with word, unfortunately. Despite the lack of booze, it admittedly sounds refreshing -- a blend of lemongrass, hibiscus, and apple tea flavors combined with a sangria syrup that's meant to taste like raspberry, blood orange, and elderberry. It all comes shaken together with blackberries, apple juice, orange slices, and ice. 
If you're a Starbucks Rewards member, you can grab a "first taste" of the new tea drink on Monday, July 11th. You know what to do.
Sign up here for our daily Thrillist email, and get your fix of the best in food/drink/fun.
Tony Merevick is Cities News Editor at Thrillist and, personally, just isn't a huge fan of cocunut. Send news tips to news@thrillist.com and follow him on Twitter @tonymerevick.