Starbucks Just Unleashed 2 Crazy-Colorful Frappuccinos for Summer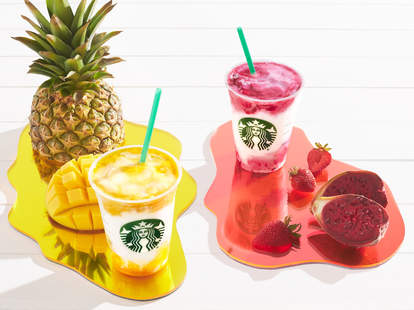 Now that it feels a lot like summer across the country, it's more than warm enough outside to ditch your regular hot coffee drinks for cold brew, iced tea, or maybe even a blended drink if you need a sugary treat to deal with the heat. If that's the case, then Starbucks may have you covered with two all-new Frappuccinos with big gorgeous swirls of fruit.
On Tuesday, Starbucks announced that the vibrant new drinks -- the Berry Prickly Pear Frappuccino Crème and the Mango Pineapple Frappuccino Crème -- are now available at most of its stores across the United States and Canada for a limited time. Both of the beverages are made with the company's coffee-free crème base and layered swirls of colorful fruit purees. They're basically Instagram bait.
Baristas make the Berry Prickly Pear Frappuccino by pouring a mango crème blend over strawberry prickle pear fruit puree and finishing it with another layer of the puree on top. Starbucks said the prickly pear flavor (think berries and tropical melon) pairs well with strawberry and even has a few hints of hibiscus, lime, and passionfruit.The Mango Pineapple Frappuccino is made the same way, but with a mango pineapple fruit puree. Interestingly, neither Frappuccino is served with whipped cream on top -- apparently, to allow "the fruit flavors and bright colors to shine through." But, hey, that doesn't mean you can't ask for them to add some.
Sure, the crème-based Frappuccinos don't have the caffeine punch to replace your morning coffee, but if you're looking to cool off with what's essentially a drinkable fruit popsicle, well, here you go.
Sign up here for our daily Thrillist email and subscribe here for our YouTube channel to get your fix of the best in food/drink/fun.

Tony Merevick is Senior News Editor at Thrillist and is still waiting for new coffee-based Frappuccinos. Send news tips to news@thrillist.com and follow him on Twitter @tonymerevick.