Starbucks Is Giving Away Free Drinks for Life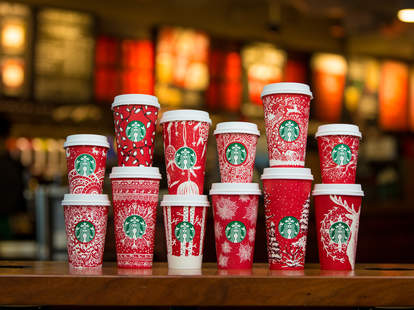 Thanks to the avalanche of $5 Starbucks gift cards you're about to receive from friends, acquaintances, and coworkers for the holidays, it might feel like you have free coffee for life. But it turns out the coffee giant is giving away exactly that -- free coffee "for life" -- as part of its "Starbucks for Life" sweepstakes starting on Tuesday, and best of all, it doesn't involve thoughtless last-minute gifts.
Starbucks announced it's bringing back the popular contest for a third holiday season of coffee sweats-inducing giveaways, beginning December 6th and ending on January 16th of next year. Just like last year, all you have to do is buy coffee like you usually do via your Starbucks Rewards card (or via the mobile app), and you'll receive game plays that are redeemable for digital game pieces on starbucksforlife.com (starbucksforlife.ca in Canada). Collect enough pieces to fill rows on the digital game board and you'll win prizes ranging from bonus Starbucks Rewards stars to free Starbucks "for life."
Starbucks is also introducing additional ways to earn game plays, such as a "Jump the Line" challenge that rewards you for buying your drinks via the mobile app and "Hot Streak," which rewards you for playing multiple days in a row, according to a press release. Perhaps best of all is the new ability to trade in three of the same digital game piece for one new game play.
Along with the grand prize of coffee for life for seven winners (five in the US and two in Canada), 45 people will win Starbucks for a year, 250 people will win Starbucks for a month, and 800 people will win Starbucks for a week. Game pieces can also be used to win bonus Starbucks Rewards stars, but you can also win five bonus stars instantly when you play.
However, it's worth noting that the sweepstakes fine print defines "Starbucks for Life" as one drink or food item per day for 30 years, so if you do the math, there's a chance it won't last for your entire life (hopefully not). Then again, who the hell knows if coffee will even exist 30 years from now anyway.
Sign up here for our daily Thrillist email, and get your fix of the best in food/drink/fun.
Tony Merevick is Cities News Editor at Thrillist and already has the coffee sweats just thinking about this. Send news tips to news@thrillist.com and follow him on Twitter @tonymerevick.