Starbucks Is Serving Whiskey Barrel-Aged Cold Brew Coffee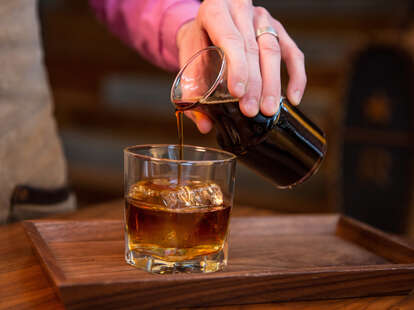 Coffee and whiskey lovers rejoiced when Jack Daniel's unleashed whiskey-infused coffee earlier this year. Now, it looks like Starbucks is taking the exciting -- and sort of surprising -- marriage of your favorite flavors to the next level with its first-ever whiskey barrel aged coffee. Yes, really.
Starbucks said the new coffee is made from an 800lb batch of green (not yet roasted) Starbucks Reserve Sulawesi coffee beans that are aged in emptied American Oak aged whiskey barrels from Woodinville Whiskey Co., then roasted by the coffee giant's master roasters. Starting on Monday, Starbucks is serving the barrel aged coffee in the form of two new beverages, Barrel Aged Cold Brew and Barrel Aged Con Crema, exclusively at its Willy Wonka-esque Seattle Roastery.
The coffee beans absorb the whiskey flavor from the barrel over the course of several weeks, and although the roasting process burns off the actual alcohol, the company claims the flavors and the aroma of the whiskey still comes through in the drinks. That's right: the barrel aged coffee is totally non-alcoholic, so don't expect anything other than a caffeine buzz from drinking the stuff.
"The process takes time, care and patience, ensuring we deliver a distinct experience that stays true to the specialness of the coffee while imparting the complementary, distinguished flavor of the oak-aged barrel," Duane Thompson, a member of Starbucks beverage R&D team, said in a statement. "You get those earthy notes mingling with the oak to create a cup that's unlike any other."
Here's how Starbucks describes the two barrel aged coffee beverages:
Barrel Aged Cold Brew: Whiskey Barrel-Aged Sulawesi brewed cold and lightly sweetened with barrel aged vanilla syrup.
Barrel Aged Con Crema: Whiskey Barrel-Aged Sulawesi served as a pour over with barrel-aged vanilla syrup and a cascara sugar cold foam topping.
Unfortunately, it doesn't look like Starbucks has any plans to introduce a barrel aged coffee nationally, but a coffee and whiskey fanatic can dream, right?
Sign up here for our daily Thrillist email, and get your fix of the best in food/drink/fun.
Tony Merevick is Cities News Editor at Thrillist and has yet to taste a whiskey-flavored coffee that's actually enjoyable beyond a novelty item. Send news tips to news@thrillist.com and follow him on Twitter @tonymerevick.