Starbucks Basically Made a Fruitcake Latte
Why the hell is the fruitcake a thing? It's the burning question of the holiday season. But if the fruitcake has one redeeming quality, it's that now there's a Starbucks Christmas beverage inspired by it. 
OK, so it's actually a "Christmas Panettone Latte," and a panettone is a bit different than that brick sitting with the holiday spread being eaten only by flies, but the idea is the same. It's a Christmas loaf with fruit. And it's Italian. Festive!
Sadly, the seasonal drink is only available in Starbucks' Asian-Pacific stores. This is extra sad because the drink sounds way better than the traditional Christmas dish and is described as having a "sweet, pastry aroma, buttery taste and orange, cranberry and apple sprinkles."  Whereas a normal fruitcake is best described as, "Wait, did someone actually take a bit of that thing? Really? Are you OK?"
So if you're spending Christmas in, say, Hong Kong, you can totally pick one of these up. If you can't get one, well, you have normal fruitcake. Yay? And you can bask in the glory of this photo: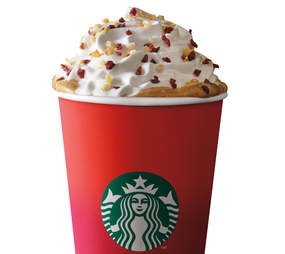 Starbucks
Sign up here for our daily Thrillist email, and get your fix of the best in food/drink/fun.
Kara King is a News Writer at Thrillist and will never, ever eat the fruitcake Send news tips to news@thrillist.com and follow her at @karatillie.