Starbucks and McDonald's Are Teaming Up to Make a Completely Recyclable Coffee Cup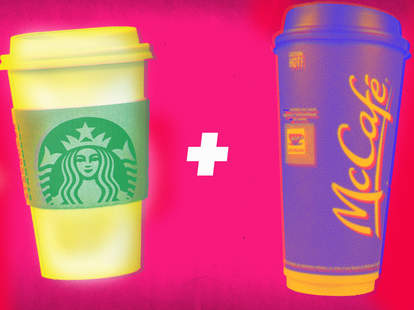 Contrary to the free market warfare of modern capitalism, Starbucks and McDonald's are not adversaries. While each behemoth is known for ice-blended coffee drinks and rapid-fire burgers, respectively, the two companies are combining their corporate weight in the fight against a common foe: garbage. The objective of the unholy alliance is a completely recyclable hot cup to replace the standardized vessels that have carried caffeine to your face for generations.
The idea here to is to transform single-use cups from inevitable refuse to agents of the green revolution, and the two companies are soliciting help from would-be innovators to aid in the process. The Next Gen Consortium Challenge is the brainchild of investment firm Closed Loop Partners, which is calling on all manner of entrepreneurs, designers, and green-thumbs to submit their best prototypes. Closed Loop previously partnered with Starbucks for the challenge in March, and now McDonald's is stepping up to the plate, with a contribution of $5 million to give this directive legs.
Groups that submit winning ideas will gain access to a six-month "accelerator" program with funding up to $1 million based on "key milestones," which are assumedly good, sustainable things.
As far as collaborating with a competitor instead of cannibalizing each other's business, McDonald's and Starbucks are first trying to eradicate what McDonald's chief supply chain officer Marion Gross calls a "societal issue."
"In food safety, there's no competitive advantage," she told Fast Company. "We all have to come with solutions and make sure we're watching out for the public's interest. This is something that we see as kind of similar. It's a societal issue, and there's a way that we can come together, not as competitors, but as problem solvers. We can use our collective scale to make a difference."
News of the directive comes after momentous pledges made by both brands: Starbucks announced a move earlier this month to phase out plastic straws in favor of sippy cup-like lids at its more than 28,000 locations across the globe by 2020, while McDonald's has announced an identical directive in the United Kingdom. The impetus makes sense, considering how singe-use cup consumption has spiked dramatically in recent years, to well over 110 million cups a day, according to Freedonia Group.
There's no direct timeline for when the sustainable coffee cups are primed to hit the market, although the mere idea should make the thought of floating garbage islands a little less menacing in the interim.
Sign up here for our daily Thrillist email and subscribe here for our YouTube channel to get your fix of the best in food/drink/fun.
 
Sam Blum is a News Staff Writer for Thrillist. He's also a martial arts and music nerd who appreciates a fine sandwich and cute dogs. Find his clips in The Guardian, Rolling Stone, The A.V. Club and Esquire. He's on Twitter @Blumnessmonster.