Get $2 Off Your Starbucks Impossible Breakfast Sandwich Every Monday This Month
Save money by skipping the sausage.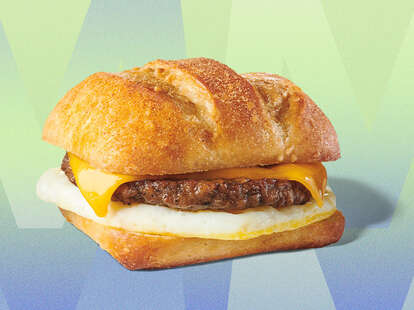 This morning, Starbucks announced the return of its fan-favorite Pistachio Latte as a new year treat, but that's not the only exciting news out of the Seattle-based coffee giant. The chain is bringing back its Meatless Mondays for the entire month of January, and you can get $2 off your Impossible Breakfast Sandwiches each week.
As part of Starbucks' ongoing mission to reduce its carbon footprint by 50% by 2030, you'll get the plant-based sandwich for less every single Monday when you stop by your local shop, order via the Starbucks app, or through Uber Eats.
The Impossible Breakfast Sandwich, which features a plant-based sausage patty, cage-free fried egg, and aged cheddar cheese on a sesame ciabatta bun, debuted in June 2020. And while it's available on a year-round basis, this marks the chain's second annual Meatless Mondays.
"As we approach the 50th anniversary of Starbucks in 2021, we look ahead with a heightened sense of urgency and conviction that we must challenge ourselves, think bigger and do much more in partnership with others to take care of the planet we share," CEO Kevin Johnson wrote in an open letter in January 2020. "Today, I'm excited to be able to share with you our commitment to pursue a bold, multi-decade aspiration to become resource positive and give more than we take from the planet."
The promotion will run every Monday through January 31, 2022.
Megan Schaltegger is a staff writer at Thrillist.