This 'Secret' Drink Made Its Way Onto the Official Starbucks Menu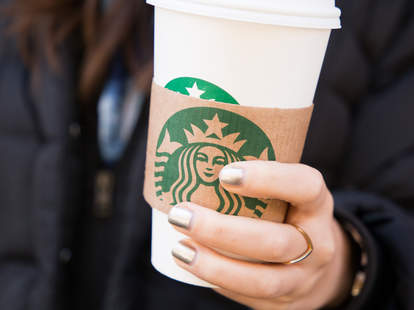 As is the case with many chains boasting a fanatical following, Starbucks has an extensive "secret" menu filled with items its baristas will (usually) whip up if you know how to ask for them. And now, after realizing how popular one particular unauthorized tea-based beverage had become, the higher ups at Starbucks have decided to make it legit by adding it to the company's official menu. Meet the Medicine Ball.
Although the Medicine Ball's official origin story is unknown, it appears to have started catching on around October 2016, and has since generated quite a bit of attention on Instagram as a "miracle cold cure." There are also apparently several ways to make it, but according to the Starbucks spokesperson we reached out to, this is the recommended recipe: "In a hot cup, add a bag of Teavana Jade Citrus Mint Tea and a bag of Teavana Peach Tranquility Tea. Add half hot water and half steamed lemonade. Add a packet of honey and an optional pump of peppermint."
It's unclear how or if the concoction can actually fight off any common cold, but it sure does sound damn delicious.
Sign up here for our daily Thrillist email, and get your fix of the best in food/drink/fun.