Starbucks Is Expanding Its To-Go Options Beyond the Drive-Thru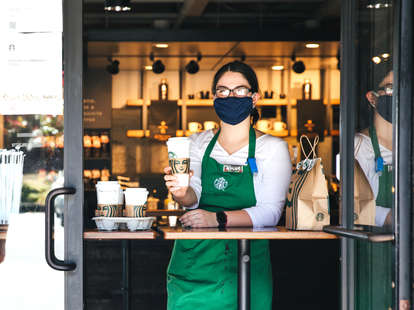 Courtesy of Starbucks
Courtesy of Starbucks
In response to the COVID-19 outbreak, Starbucks pivoted to a drive-thru only model in mid-March. But now, as some states prepare to ease stay-at-home restrictions, the coffeehouse chain is expanding its services to include more to-go options beginning May 4.
As part of this next "monitor and adapt" phase, Starbucks is exploring a number of new procedures, but what that means for you is largely geographic. Though many stores will remain drive-thru only, others will begin edging back to normalcy -- or at least, a new normal. Certain locations will allow customers to order ahead, pay through the mobile app, and pickup from a barista stationed outside the store, while others will fully reopen cafés for to-go only orders.
For the latter, there will be a limited number of customers allowed inside at a time. Floor markers and signage will also be required to encourage social distancing.
"Over the next days and weeks, when it is considered safe to do so, and in cooperation with local health authorities and local governments, more Starbucks stores will be ready to serve customers in a range of ways," the company said in a statement Wednesday. "This will be determined on a store-by-store basis as Starbucks continues to prioritize the health and wellbeing of customers and partners (employees)."
Like its peers, Starbucks continues to take measures to ensure customer and employee safety. The company is exploring the option of required non-medical grade masks and providing thermometers for all stores.
"Everything we are doing right now ... meets and in many cases even exceeds the expert guidance provided by the CDC and other public health authorities," EVP and President Rossann Williams said. "But we know the science on COVID-19 and local mandates are constantly shifting, and rather than waiting for clarity, we want to continue to take additional steps now to ensure the health and safety of our partners."
If you're nearest location isn't opening up cafés or you're just too lazy to leave your couch (hard same), you can always opt for delivery. Starbucks just extended its free delivery offer through May.
Sign up here for our daily Thrillist email and subscribe here for our YouTube channel to get your fix of the best in food/drink/fun.
Megan Schaltegger is a staff writer at Thrillist.