Every year on September 29, thousands of coffee shops, restaurants, and other java purveyors unleash a day-long caffeine rush with various deals for National Coffee Day. But while many of the most ubiquitous chains routinely honor the made-up holiday with complimentary cups of their signature brews, Starbucks -- and its sprawling empire of locations -- has long been noticeably absent from the annual lists of where you can find some free joe. Turns out there's a good reason why.
That's right, if you walk into your local Starbucks on National Coffee Day this Friday, you can safely expect to pay full price for your grande coffee -- no discounts, no free cups. Instead, the coffee giant is using the occasion to highlight its efforts to support the farmers around the world who grow the coffee it serves. All of the usual menu boards have been replaced with posters reading, "We love coffee, and you love coffee, and all that love is making the world a better place," along with stats about how the company sources its coffee beans. Locations are also serving a special Single Origin Guatemala Huehuetenango coffee.
Recommended Video
Here's Our Travel Guide to This Nation of Over 7,000 Islands
The point of the nationwide menu takeover, according to Starbucks, is to show you part of what it does with the five bucks you shell out for your coffee every morning. This, more or less, has been the company's approach to National Coffee Day for years now, exciting free coffee deals be damned. 
"Starbucks is taking -- and has always taken -- a different approach to celebrating National Coffee Day and used the occasion as a time to talk to people about the story behind their everyday cup of coffee," a Starbucks spokesperson said via email. "We want to show customers where their coffee comes from and why their purchase matters now more than ever, especially as coffee farming communities are confronted with issues like climate change."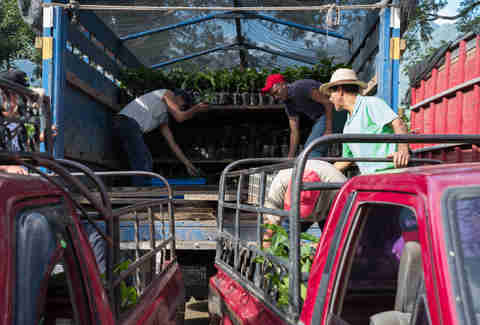 On National Coffee Day in 2015, the coffee company launched One Tree for Every Bag, an effort to fight against one of the biggest threats to coffee farmers, coffee leaf rust. Specifically, Starbucks pledged to donate one rust-resistant coffee tree to farmers affected by the plant fungus for every bag of coffee sold from September 29, 2015 through September 29, 2016 at its stores across the country. The company expanded the initiative to include brewed coffee sales for National Coffee Day in 2016 and has distributed more than 30 million of the coffee trees in Latin America to date. The goal is to plant 100 million of them by 2025.
Starbucks said it also does additional behind-the-scenes work to ensure it sources its coffee beans responsibly, and to give back to the farmers who grow them. For example, it claims that 99% of the coffee it sells has been verified as "ethically sourced," which means it knows exactly where it comes from, how it's grown, and how it impacts the environment. As part of this year's National Coffee Day promotion, the company launched a new page on website with an extensive account of its coffee-sourcing practices. 
"Year-round, Starbucks is dedicated to helping farmers overcome the challenges facing coffee communities and committed to buying 100 percent ethically sourced coffee in partnership with Conservation International," the spokesperson said. "In total, Starbucks has invested more than $100 million in supporting coffee communities through collaborative farmer programs and activities -- including Coffee and Farmer Equity (C.A.F.E.) Practices, farmer support centers, farmer loans and forest carbon projects."
All said, you won't get a free cup of coffee at Starbucks for the annual "food holiday," but at least it's for a good reason. There are plenty of other free coffee deals out there, after all.
Sign up here for our daily Thrillist email and subscribe here for our YouTube channel to get your fix of the best in food/drink/fun.