Starbucks' Newest Drink Doubles as a Hot or Frappuccino Treat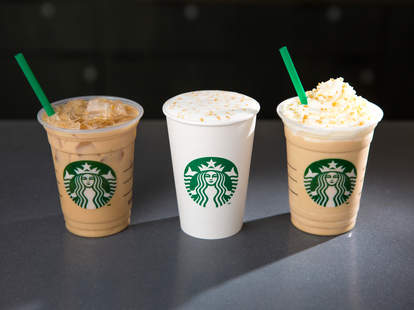 Sort of like the brief spring weather a lot of the country has seen, Starbucks' limited-edition Cherry Blossom Frappuccino lasted only five days before it disappeared. But now, just days after the official start of the season, the coffee giant is launching another all-new drink to help you escape from the cold grip of winter and transition into sunny/stormy vernal roller coaster: the Caramelized Honey Latte. 
Starbucks describes the new latte as a mix of slow-cooked caramel honey sauce and espresso topped with steamed milk, but said it will also be available iced or as a Frappuccino (in some markets) so you can order it in different forms based on how nice it is outside. As Christal Canzler, a member of the Starbucks beverage development team explains, "One of the things we're most excited about with Caramelized Honey Latte is how well it works both hot and iced. It's perfect for spring weather."
The new beverages will hit Starbucks stores across the country and Canada on Tuesday, March 22nd, according to a press release. The date also marks the return of the popular Teavana Shaken Mango Black Tea Lemonade, Starbucks' Cold Brew coffee (in some regions), and seasonal pastries like Chocolate Marble Pound Cake, Apple Fritter, Chocolate Chunk Muffin, and Cinnamon Raisin Bagel. 
In other words, get ready to witness people walking around wearing shorts and flip flops while slurping a venti Frappuccino in 50-degree weather.
Sign up here for our daily Thrillist email, and get your fix of the best in food/drink/fun.
Tony Merevick is Cities News Editor at Thrillist and hasn't treated himself to an expensive latte in a while. Send news tips to news@thrillist.com and follow him on Twitter @tonymerevick.