Starbucks' New 'Cloud' Drinks Are Super Weird, but They Could Be the Future
In the decade or so since Starbucks introduced its decidedly sweet take on the classic espresso-forward Latte Macchiato with the Caramel Macchiato, the flavor has reached ice cream pint- and candle scent-levels of ubiquity. Now, following years in...
Courtesy of Starbucks
Courtesy of Starbucks
In the decade or so since Starbucks introduced its decidedly sweet take on the classic espresso-forward Latte Macchiato with the Caramel Macchiato, the flavor has reached ice cream pint- and candle scent-levels of ubiquity. Now, following years in which the coffee chain has unleashed ever more colorful and Instagram-baity drinks, it's reinventing the Caramel Macchiato in a similarly indulgent mold. And it could very well be the future.
On Tuesday, Starbucks locations across the country started serving the Cloud Macchiato, a twist on the original that's made with espresso and fluffy whipped cold foam rather than espresso and regular liquid milk. It comes in two flavors, Caramel, which tastes just like a regular Caramel Macchiato, and Cinnamon, which features both cinnamon flavors and complementary hints of lemon. Both are "marked" with Starbucks' signature caramel sauce crosshatch on top, and both are surprisingly thick and decadent, thanks to the substantial, meringue-like cold foam that fills most of the cup.
Starbucks describes the drinks as "luxurious," but after getting an early taste of both last week in New York City, I'd describe the texture and overall experience of sipping the drink (they don't come with a straw) as surprising and different. The consistency is thicker than an iced latte, but lighter than a Frappuccino, and yet, the foam is sturdy enough that you don't have to worry about it disappearing much. Because about half of the drink is foam, you're getting less liquid milk and, as a result, fewer calories (a grande Caramel Cloud Macchiato with 2% milk has 180). Despite the airy texture, it's hard not to think of these drinks as desserts. They're not something you'd be able to mindlessly suck down and end up with just ice before you know it.
So, What Is Cold Foam?
For starters, cold foam is not the same as the foam you get from steaming milk for, say, a latte or cappuccino. After all, it's cold, so maybe the word "foam" in the context of a coffee drink is a bit of a misnomer. It's actually more of a meringue. In fact, Starbucks was inspired by a centuries-old summer drink from Barcelona called leche merengada, or "meringue milk," that's made with milk, egg whites, sugar, and cinnamon, according to a spokesperson. But instead of having baristas crack eggs behind the counter, the company figured out an easier way to achieve a similar milky meringue on a large scale... you know, because it has a very well-funded R&D department.
To make cold foam, Starbucks uses a proprietary "Cloud powder" made with, of course, egg whites. Baristas mix the powder, the milk of your choice (even coconut milk), and any flavoring for the drink, then whip it all together in a blender. The result is a surprisingly thick foam that can be layered with espresso, ice, and toppings to create drinks that are appealing both visually and texturally. Then again, if you're allergic to eggs or just don't eat them, it's definitely not for you.
"The original Spanish beverage combines cinnamon and lemon zest, with a frothy texture which inspired us to reinvent the beverage as a macchiato," said Erin Marinan, who works on the chain's R&D team. "The texture of the Cloud Macchiato is luxurious and by adding espresso and our Starbucks signature caramel cross-hatch, we're making it ours and opening up even more ways we can bring new beverage experiences to our customers."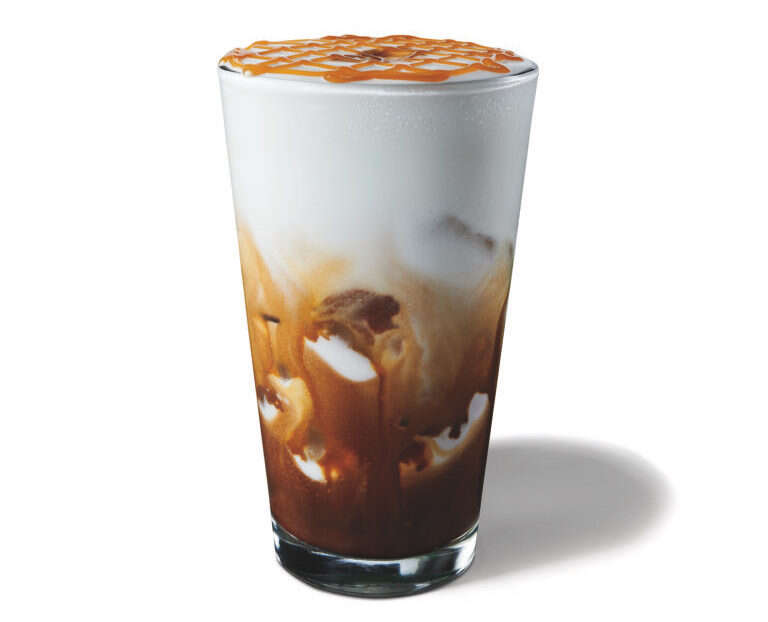 Starbucks is marketing the Cloud Macchiato as an iced drink, but interestingly, you can also order it hot. Instead of whipping the milk and powder in a blender, baristas add the powder to milk and steam it. I tried the Caramel version hot with 2% milk and it was like drinking steamed half and half, it was so rich. As if the cold Cloud Macchiato wasn't luscious enough, the hot one somehow manages to take it up a notch. Caligula would drink it in the morning.

Did the drinks leave me "on Cloud 9" as Starbucks promises in its marketing for the drinks? Not really. Are they unlike anything I've ever tasted before? For sure. And for that reason, they're worth a shot if you're looking for something sweet with an espresso kick and don't have an egg allergy. My biggest takeaway from the Cloud Macchiato, though, is what else Starbucks could do with cold foam in the future.
What's stopping them from concocting a Cloud Mocha made with mocha sauce mixed with espresso and topped with rich, chocolatey cold foam? Or what about a green tea latte crowned with a refreshing lemon-flavored cold foam? Or a Cloud version of almost any Frappuccino flavor? Hell, I wouldn't be surprised if there's a Pumpkin Spice Latte-inspired version later this year. Starbucks is only just scratching the foamy surface of the possibilities. When asked if the "Cloud" drinks represent a new category on the menu, a spokesperson said they're simply a permanent extension of Starbucks' existing macchiato offerings, nothing more. Riiiiiight.
Make no mistake, none of the Cloud Macchiatos are nearly as rich and satisfying as a Frappuccino (there's literally just more to them, ingredients wise), so while the idea that they could be "the next Frappuccino" certainly crossed my mind, it's more than safe to say that won't be the case. Everyone knows what a Frappuccino is (because it's basically a milkshake), whereas the Cloud Macchiato comes with a learning curve. But maybe after a year or two and a few more iterations on the Cloud concept, it could become Starbucks' next big hit.
Sign up here for our daily Thrillist email and subscribe here for our YouTube channel to get your fix of the best in food/drink/fun.