Starbucks Just Added 2 All-New Drinks for Spring
They come with alternative milks, shaken not stirred.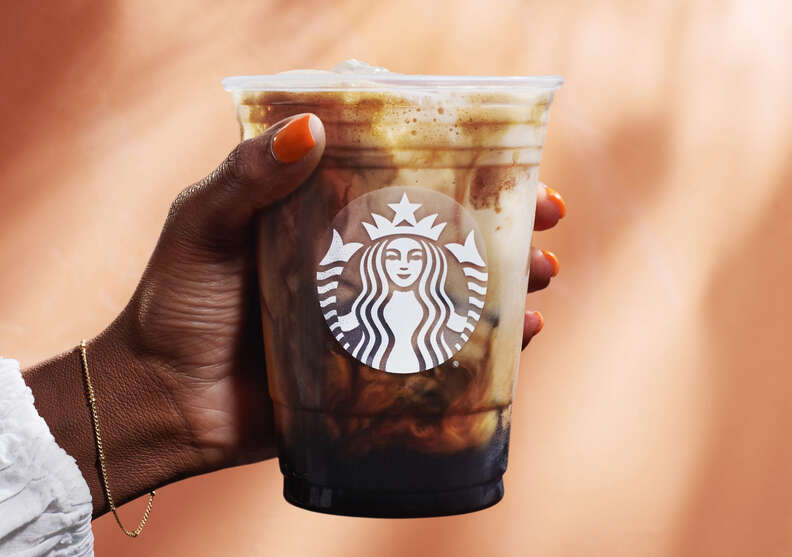 Starbucks loves giving us new drinks and, thankfully, we love trying them. In preparation for spring, the coffee chain announced two new drinks on Monday that will be available starting Tuesday, March 2.
The all-new iced drinks are hand-shaken, a cocktail-like process that Starbucks first started playing with in 2003. The idea with shaking drinks before serving them is that it cools the beverage quickly and evenly mixes ingredients to achieve maximum flavor.
"The fun thing about shaking is it adds another dimension to the beverage," said Alicia Binion, senior product developer at Starbucks, in a statement. "It creates a rich texture on your palate—by just adding air. When you take that first sip, you get a wonderful froth that is infused with flavor."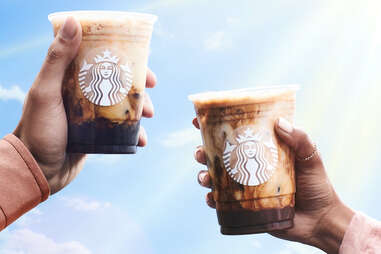 Here are the new drinks you'll be ordering on repeat this season:
Iced Brown Sugar Oatmilk Shaken Espresso: Blonde espresso is shaken with brown sugar and cinnamon, then topped off with oat milk and ice.
Iced Chocolate Almondmilk Shaken Espresso: Blonde espresso is shaken with cocoa and notes of malt, then topped with almond milk and ice.
"All of the iced shaken espresso beverages are coffee-forward with delicate sweetness and delicious flavors like chocolate malt or brown sugar found in the new beverage duo," said Binion. "They have more espresso than a traditional latte, so it's perfect for an afternoon pick-me-up."
Starbucks also announced that Oatly oat milk is now a permanent fixture in its locations nationwide, along with the Honey Oatmilk Latte which was previously only available in select regions. Now, dairy-averse US customers can choose between soy, almond, coconut, and oat milks when ordering their next beverages.
Sign up here for our daily Thrillist email and subscribe here for our YouTube channel to get your fix of the best in food/drink/fun.