Starbucks Just Added This Piña Colada Drink to Its Permanent Menu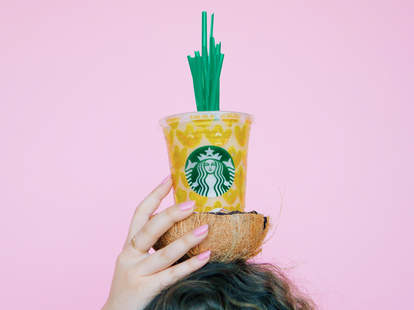 If you like Piña Coladas, and getting stuck in the… really long line at Starbucks (sorry), you'll be happy to learn about their latest specialty iced beverage: a new Piña Colada Tea Infusion meant to evoke the flavor of the iconic tropical cocktail. Only downside? This one's alcohol-free (again, sorry).
The new drink joins the recently launched lineup of new Teavana Shaken Iced Tea Infusions, and will be added to the permanent menu. Starbucks said it's made with Teavana Black Tea, a "pineapple fruit and botanical blend," and coconutmilk. However, much like the rest of the new Shaken Iced Tea lineup, you can customize it to your taste by adjusting the sweetness, adding some lemonade, or asking your barista to mix in some other botanicals. Unfortunately, unless your local Starbucks has gone rogue, it's likely your request for white rum will go unheeded.
The Piña Colada Iced Tea Infusion is available starting on Monday at participating locations across the US and Canada.
Sign up here for our daily Thrillist email and subscribe here for our YouTube channel to get your fix of the best in food/drink/fun.