Starbucks Adds 2 New Drinks to Its Menu for Summer
The coffee giant is also adding new bites, including the Chicken, Maple Butter, and Egg Sandwich.
Courtesy of Starbucks
Courtesy of Starbucks
As much as I love a steaming cup of hot coffee, I can't handle it in this summer heat. Thankfully, Starbucks is introducing two new iced Refreshers flavors, both of which are joining menus permanently.
On Tuesday, the Seattle-based coffee giant introduced its Pineapple Passionfruit Refreshers beverage and Paradise Drink Refreshers beverage. The former is inspired by a pineapple popsicle and passionfruit shaved ice. It's hand-shaken by baristas with real diced pineapple pieces. The Paradise Drink, meanwhile, is made from the same flavors but with coconut milk for a creamy tropical flavor.
"The Paradise Drink Starbucks Refreshers beverage is like sunshine in a cup—the bright tropical flavors are radiant, happy, and joyful. It's the perfect summer sip for [a] little moment of escape wherever you are," Senior Product Developer Raegan Powell said in a statement.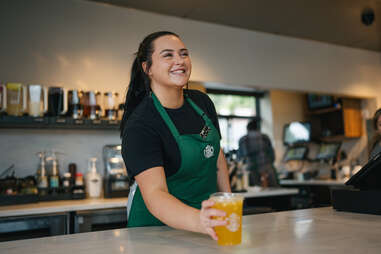 Starbucks has also introduced an all-new treat to pair with your Refreshers. The Chicken, Maple Butter, and Egg Sandwich features fluffy eggs and a maple butter spread on a toasted oat biscuit roll with fried chicken. The chain also added a Cookies & Cream Cake Pop to menus with chocolate cake, creamy sandwich cookie buttercream, and cookie bits dipped in white chocolate coating and finished with a dark chocolate cookie crumb.