Starbucks Is Introducing a Plant-Based Breakfast Sandwich This Year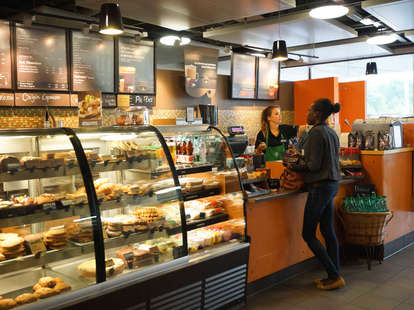 Sorbis / Shutterstock.com
Everyone wants a slice of the plant-based meat industry's growing success. Denny's is flipping Beyond Burgers, KFC is trialing a fried chicken substitute, and now, Starbucks is introducing a plant-based breakfast sandwich of its own.
On Tuesday, the Seattle-based coffee chain announced plans for a faux-meat breakfast menu addition in the United States and Canada, Reuters reports. The news follows Starbucks' previous promises for more plant-based food and drink options, an initiative driven largely by the company's aim for increased sustainability.
"As we approach the 50th anniversary of Starbucks in 2021, we look ahead with a heightened sense of urgency and conviction that we must challenge ourselves, think bigger and do much more in partnership with others to take care of the planet we share," CEO Kevin Johnson said earlier this month. "Today, I'm excited to be able to share with you our commitment to pursue a bold, multi-decade aspiration to become resource positive and give more than we take from the planet."
This isn't the only vegan-friendly change Starbucks has pushed in the new year. In early January, the chain welcome two dairy-free drinks to the chain's permanent menu, the Almond Milk Honey Flat White and Coconutmilk Latte. Additional locations are also testing an Oatmilk Honey Latte.
According to Johnson, following a recent audit, the chain found that dairy is largely responsible for the company's carbon footprint. "Alternative milks will be a big part of the solution," he told Bloomberg. "The consumer demand curve is already shifting."
Info on the unreleased plant-based breakfast sandwich is limited, but we do know it's arriving in 2020. We may be in the dark now, but soon enough, more vegan-friendly options will be available at Starbucks locations nationwide.
"As part of our sustainability initiatives, we will continue to expand plant-based options, migrating towards a more environmentally friendly menu," a spokesperson for the brand told Thrillist. "We are exploring meat alternatives for our breakfast menu, and customers around the world can expect to see more plant-based options from us this year and beyond."
Starbucks is not, however, the only chain with a plant-based breakfast idea. In fact, it'll likely go head-to-head with longtime rival Dunkin's own meat-less Beyond Sausage Sandwich, which made its debuted back in 2019.
Sign up here for our daily Thrillist email and subscribe here for our YouTube channel to get your fix of the best in food/drink/fun.
Megan Schaltegger is a staff writer at Thrillist. Follow her @MegSchaltegger.