Starbucks Coffee Just Got More Expensive and People Are Predictably Pissed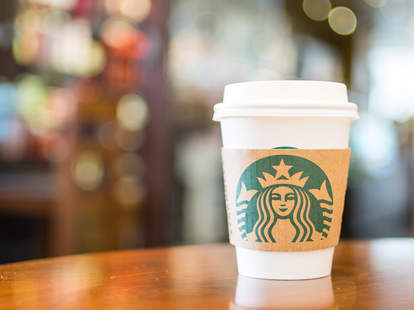 Those who get their morning caffeine fix at Starbucks are in for a somewhat rude-awakening: The global coffee peddler recently confirmed another price-hike for its standard drip coffee.
This isn't anything out of the ordinary, as history shows Starbucks has routinely raised prices in recent years, including a 30 cent hike on cold drink prices in 2016. But now, all sizes of brewed coffee are 10 to 20 cents more expensive, leaving caffeine addicts saddled with heftier tabs and more reasons to heir their grievances on the internet, according to a report by The Wall Street Journal. The prices will factor in between $1.95 and $2.15 for a Tall sized coffee, contingent upon the local tax. 
This, of course, has given Starbucks loyalists no recourse but to vent onto the great emotional sounding board that is Twitter:
@Starbucks Not happy about the price increase of your coffee. I find myself going to Starbucks about once every two or three weeks now. A few years ago I would visit multiple times per week. Bad move in my opinion.

— Chris Tiebel (@MrBronco76) June 7, 2018
It appears that #Starbucks just slid through another substantial price increase: $.20 per coffee. Six years ago my coffee was $1.71 with tax; it is now approaching $3.00. What say you, @Starbucks?

— Matt Hausmann (@matthausmann) June 7, 2018
@Starbucks a .20¢ price increase???
And the board doesn't even reflect the change.. You have become unaffordable 😢

— Ry (@packman360) June 5, 2018
Those tweeting hashtags at the coffee behemoth will quickly learn that resistance proves moot in the end: The chain confirmed that the brewed-coffee prices went up across all 8,000 locations in the United States on Tuesday.
The news follows the scheduled departure of Starbucks Chairman and ex-CEO Howard Shultz, who has hinted at some bourgeoning ambitions to run for public office -- a new career that likely will also see the public yell at him via 240-character tweets. 
Sign up here for our daily Thrillist email and subscribe here for our YouTube channel to get your fix of the best in food/drink/fun.
 
Sam Blum is a News Staff Writer for Thrillist. He's also a martial arts and music nerd who appreciates a fine sandwich and cute dogs. Find his clips in The Guardian, Rolling Stone, The A.V. Club and Esquire. He's on Twitter @Blumnessmonster.