Starbucks' Pumpkin Spice Latte K-Cups Are Coming to Your Home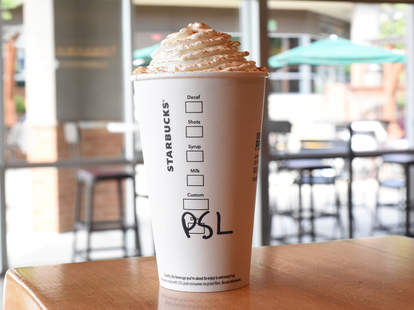 Don't pack away your scarves and gloves just quite yet: The social phenomenon that is the PSL will no longer be limited to the autumn months, as Starbucks is bringing Pumpkin Spice Latte K-Cups into the American home.
The coffee giant announced in a meeting with its shareholders that it's introducing a new line of beverages for Keurig, the aptly named "Starbucks Latte" line, which will include flavors like Caramel, Mocha, Vanilla, and, as CNN Money confirmed, the cherished Pumpkin Spice. While the line is slated to release this Summer, the "Pumpkin Spice" won't be released till the fall. 
Even so, this means if you're a die-hard PSL fan, you can keep your home stocked with pumpkin goodness year-round. Though Europeans will have to wait a little longer for their liberation, it seems they'll eventually get a version of the latte line too, as Starbucks also announced plans to create Nespresso-compatible espresso capsules.
We'd say your kitchen just got so basic... but honestly, that joke's entirely overplayed. We hope you appreciate the restraint.
Sign up here for our daily Thrillist email, and get your fix of the best in food/drink/fun.
Kara King is a News Writer at Thrillist and does enjoy the PSL. Send news tips to news@thrillist.com and follow her at @karatillie.