The PSL Is Officially Back at Starbucks, So We Guess It's Fall Now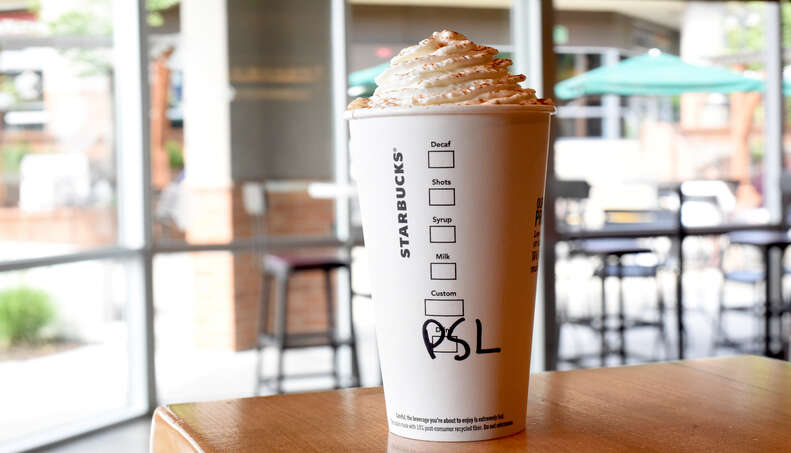 Courtesy of Starbucks
Courtesy of Starbucks
Time to bust out of your Uggs and throw on your best flannel that smells like closet, because Starbucks' Pumpkin Spice Latte is officially back on Tuesday. Ignore the fact that it's 87 degrees outside and still August -- hit us with the cinnamon! Sprinkle us with nutmeg! Give us pumpkin!
Just kidding. We're not ready for any of that just yet, but PSL season is upon us nonetheless.
Starbucks officially announced the PSL's August 27 return on Twitter, confirming rumors that the drink would arrive in stores earlier than ever. Last year, the bright orange pumpkin spice tidal wave crashed down on America on August 28. We survived the premature pumpkin-ing back then, so it's safe to say we'll survive it now. Call your loved ones and check in on them to be sure.
Look, we won't judge if you're ready to dive back into pumpkin mode well before Labor Day. By all means wrap your neck with a scarf and sip on this indulgently sweet treat to get you in the apple picking and leaves changing spirit -- if you're ready for that. Get it iced if you must because it's probably sunny wherever you are as it -- again -- is still August.
The price of a Starbucks Pumpkin Spice Latte varies across locations, but typically falls between the $4.45-$5.45 range for a tall. The nutmeg and clove-infused beverage clocks in at 380 calories -- 120 of which are fat -- with a whopping 50g of sugar for a grande, so keep that in mind if you're not looking for a sugar rush at 8:30am.
Starbucks' Pumpkin Spice Latte is only available for a limited time (usually through the beginning of the year). Anyway, you may want to get a gourd (I'm sorry) sip of the fall drink before the holiday drinks arrive in like October.
Sign up here for our daily Thrillist email and subscribe here for our YouTube channel to get your fix of the best in food/drink/fun.
Kat Thompson is a staff writer at Thrillist. Follow her on Twitter @katthompsonn.