Starbucks Is Already Kicking Off Pumpkin Spice Season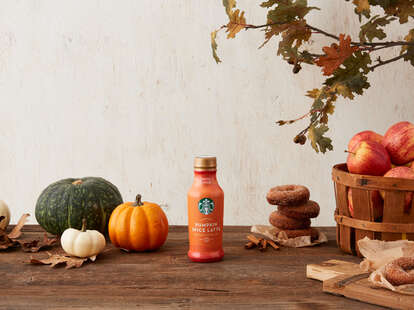 Although scientists may disagree, there are actually five seasons in every calendar year: winter, spring, summer, fall, and Pumpkin Spice Latte season. The perennial return of Starbucks' delicious autumnal beverage signals a certain shift in peoples' moods and attitudes, as the weather cools and the days grow shorter. However, it looks like this year's PSL season is here -- in mid-August -- now that the coffee mega-chain is unleashing new PSL products on grocery store shelves. Yep. Already.
While it may seem like they're trying to cut summer short, Starbucks still hasn't yet announced when the PSL itself will officially be back on the in-store menu this year. It's just making it easier to get your fix of the iconic milky nutmeg/cinnamon/clove-flavored beverage in various other forms, with the debut of ready-to-drink PSL lattes and PSL-flavored ground coffee, both of which are hitting grocery store shelves for the first time.
The two new products join a suite of others inspired by the hugely popular seasonal drink, including PSL K-Cup pods, Iced Espresso Classic and Frappuccino Chilled Coffee Drinks, and VIA Instant Coffee packs. That's not to mention all of the unofficial PSL-inspired beer and cookies that have cropped up in its wake.
You may have to wait a little longer to get the fresh stuff in your cup, but you should be able to get your hands on the full PSL product lineup at most grocery stores that sell Starbucks products beginning now.
Sign up here for our daily Thrillist email and subscribe here for our YouTube channel to get your fix of the best in food/drink/fun.