It's Official: Starbucks' Pumpkin Spice Latte Returns on Tuesday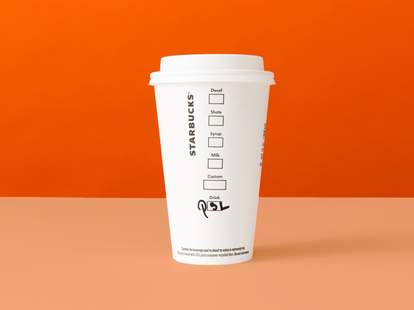 Finally, after more than three days of teasing PSL fans with a bizarre Facebook Live video, Starbucks announced that the Pumpkin Spice Latte will make its much-anticipated annual return to stores on Tuesday, September 5. That's right, people: pumpkin spice season is about to hit full swing, as millions of people take their first sip of the sweet and spicy cultural phenomenon in a cup. 
Although there have been several reports of rogue baristas serving the drink early, you can officially get your hands on a PSL at any Starbucks location in the United States on Tuesday, while supply of the pumpkin syrup lasts, according to a company spokesperson. You don't need to be a Starbucks Rewards program member and you don't need one of those silly PSL Fan Passes like last year. All you have to do is surrender to the pumpkin spice insanity and all of the frothy, caffeinated, "basic"-ness will be yours. 
Starbucks first teased the drink's annual return with a tweet on August 28, hinting that the big news would be revealed via its Facebook page on September 1. But instead of details on when and how you can finally get your hands on cups of the hot orange stuff, the company launched a puzzling days-long Facebook Live stream featuring kittens, puppies, a bedtime story read by Carel Struycken, an aromatherapy session, and finally, the "hatching" of the Pumpkin Spice Latte. The PSL officially emerged from its summer vacation a little after 8pm ET on Monday.
But it looks like the PSL is kicking off the season alone this time, as Starbucks hasn't announced the launch of any additional fall-themed beverages as it has in the past. Of course, you can probably count on the chain to unleash at least one other sweet, spicy, or otherwise fall-flavored drink in the coming weeks. And before you know it, the red cups will return for the holidays. 
Sign up here for our daily Thrillist email and subscribe here for our YouTube channel to get your fix of the best in food/drink/fun.
 
Tony Merevick is Senior News Editor at Thrillist and, so far, has only prepared for fall by buying some new three-wick candles. Send news tips to news@thrillist.com and follow him on Twitter @tonymerevick.