Starbucks' New Fall Drink Lineup Is Here, Including the Pumpkin Spice Latte's Return
Fear not, lactose-challenged friends! The new menu includes the chain's first official dairy-free fall drink.
Courtesy of Starbucks
Courtesy of Starbucks
Last year, Starbucks introduced a flashy new fall flavor, the Apple Crisp Macchiato, which is an equal fan favorite amongst our lactose-challenged friends and cow milk-consuming counterparts. Now, it's back—along with the iconic Pumpkin Spice Latte and more.
Starbucks' fall menu officially returns on Tuesday, August 30, marking the PSL's 19th straight appearance and the beloved Pumpkin Cream Cold Brew's fourth consecutive debut. And while the company said oat milk was the drink's preferred preparation in its debut last year, the Apple Crisp Oatmilk Macchiato is now making its debut as the coffee chain's first official dairy-free fall menu drink.
"For many customers, Starbucks signals the start of the fall season and has inspired a cultural phenomenon around fall flavor and products," Senior Product Developer and creator behind the Apple Crisp Macchiato Raegan Powell said in a statement last year. "Fall at Starbucks brings customers back to the nostalgic flavors of the season and our team used that inspiration to create a new flavor that celebrates those feelings of comfort and familiarity."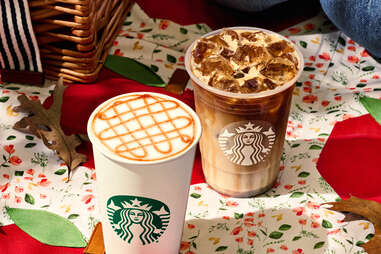 While you've likely tried the Pumpkin Spice Latte by now, the Apple Crisp Oatmilk Macchiato is still the new kid on the block. It's available in both hot and iced iterations with apple and brown sugar flavors reminiscent of your favorite gooey apple pie filling. It's blended with espresso, steamed oat milk, and a caramelized-spiced apple drizzle.
"Crafting the Apple Crisp Oatmilk Macchiato with Starbucks Blonde Espresso gives the beverage a soft and smooth foundation that ties all the flavors together," Starbucks beverage developer Harvey Rojas Mora said in a statement. "The [oat milk] adds a creaminess and brings forward the oat flavors of a traditional apple crisp topping."
In addition to the drinks, a number of fan-favorite fall food items are also returning to the company's bakery cases starting this week. These items include the Pumpkin Cream Cheese Muffin, Pumpkin Scone, and Pumpkin Loaf. Joining that trio is the brand-new Owl Cake Pop.