What's Your State's Favorite Starbucks Holiday Drink?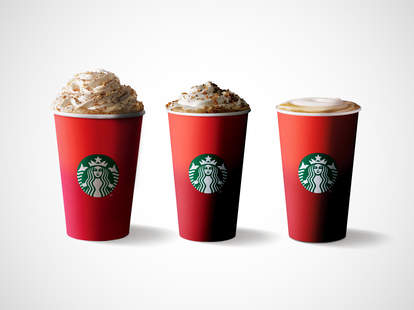 Now that you've received at least five obligatory Starbucks gift cards for the holidays, you're probably already double-fisting red cups full of fancy holiday coffee drinks instead of your plain old Blonde Roast. But while you may enjoy a Gingerbread Latte or the new Holiday Spice Flat White, it appears that America's taste for $5+ sugary caffeine vehicles varies by states and regions, according to a new map the coffee giant released Tuesday.
Courtesy of Starbucks
As revealed by the map above, the Gingerbread Latte, Caramel Brulee Latte, and of course, the Pumpkin Spice Latte appear to dominate in most states across the Midwest, the South, and areas out west. But some states -- Florida, Texas, California, and Hawaii -- apparently have their own unique tastes, likely influenced by a lack of truly wintry weather. But really, is there any better way to feel the holiday spirit than slurping a Caramel Brulee Frappuccino while chilling at the beach? Didn't think so.
Meanwhile, people in the Pacific Northwest (where Starbucks was born) and Alaska seem to enjoy the Eggnog Latte -- to the point that they could soon run out. Also at risk of selling out soon is the latest addition to the seasonal lineup, the Holiday Spice Flat White, which appears to be a hit in the Northeast because espresso is for the, uh, the sophisticated? Something like that.
Starbucks said it created the map by looking at the number of the drinks sold for every thousand of all the company's menu items, but who cares about the math -- does your order match your state or region?
Sign up here for our daily Thrillist email, and get your fix of the best in food/drink/fun.
Tony Merevick is Cities News Editor at Thrillist and actually did not receive a Starbucks gift card for Christmas this year, which may be a first. Send news tips to news@thrillist.com and follow him on Twitter @tonymerevick.