Starbucks Quietly Brought Back a Special Winter Drink This Week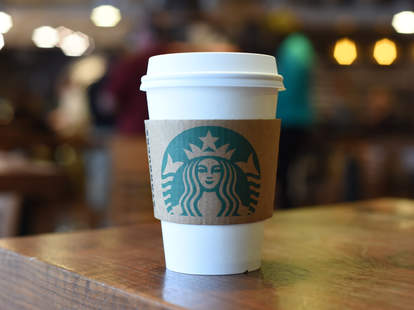 Earlier this week, Starbucks blessed our lactose-challenged friends with a triple drink debut, introducing the Almond Milk Honey Flat White, Coconut Milk Latte, and in select markets, the Oat Milk Honey Latte. But because not everyone is out here fiending for plant-based substitutes, the chain quietly brought back an old dairy-filled favorite right along with 'em. 
The Smoked Butterscotch Latte, as well as the Butterscotch Frappuccino, have made a triumphant return to menus, according to a report by Delish. The winter classic, which features smoked butterscotch syrup, espresso, steamed milk, and a smoky butterscotch topping, first appeared on the Starbucks menu back in 2016 alongside the Citrus Tea Latte, and has made annual reappearances since.
But, because this is life and life is unfair, the Butterscotch Latte is only available for a little while. Since we don't know how long that'll be, you may want to get it sooner rather than later.
If you are of the oat, almond, coconut, cashew, whatever milk camp, the standard recipe for this latte is not for you, but you can always customize it with whatever milk alternative you want. 
"Customers are looking for more ways to personalize their beverages," a product developer on the Starbucks Beverage team, Raegan Powell, said in a statement Monday. "We love how the nuanced flavor you get with plant-based milks pairs with espresso, either hot or iced. It's a new way to start your new year."
Sign up here for our daily Thrillist email and subscribe here for our YouTube channel to get your fix of the best in food/drink/fun.
Megan Schaltegger is a staff writer at Thrillist. Follow her @MegSchaltegger.