Starbucks' Marshmallow-Filled S'mores Frappuccino Is Back for Summer
It's even better than the OG campfire snack.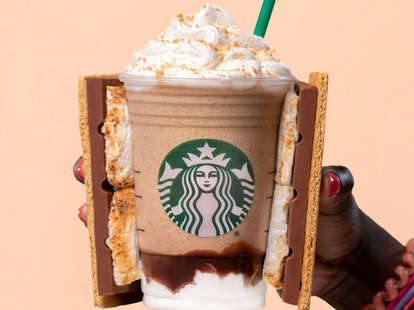 In most cases I'd argue you shouldn't mess with perfection, but Starbucks has done just that with its fan-favorite S'mores Frappuccino and created an even better version of the classic campfire snack. You have that marshmallow-infused whipped cream and graham cracker crumble to thank for that. And now, after suffering months without the summer-themed sipper, it's finally returning to menus.
Though, of course, it's one of those limited time only offerings. You'll likely see the S'mores Frapp sticking around through summer, which means you've still got months of the chocolatey, marshmallow-filled cold coffee beverage. In case you haven't had the pleasure of sucking down one of these drinks yourself, let me fill you in one the makeup: the Frappuccino features layers of marshmallow-infused whipped cream, milk chocolate sauce, and a blend of vanilla, coffee, milk, and ice before it's topped with more marshmallow whipped cream and that aforementioned graham cracker crumble.
And while we think it's excellent as is, you do have the option to customize your Frapp. Starbucks lets you switch out your milk, adjust syrup amount, add extra whipped cream, and nix any ingredients you don't want.
Of course, it's not your only seasonal beverage option. The coffee giant is debuting a brand-new pink drink alongside the S'mores Frapp return. The Iced Guava Passionfruit Drink is a creamy, hand-shaken coconut milk blend with guava, passionfruit, pineapple, and ginger flavors.
Boot up that Starbucks app of yours to check store hours, order online, and take advantage of that contactless payment option.
Sign up here for our daily Thrillist email and subscribe here for our YouTube channel to get your fix of the best in food/drink/fun.
Megan Schaltegger is a staff writer at Thrillist.