Starbucks Just Launched 3 All-New Drinks for Spring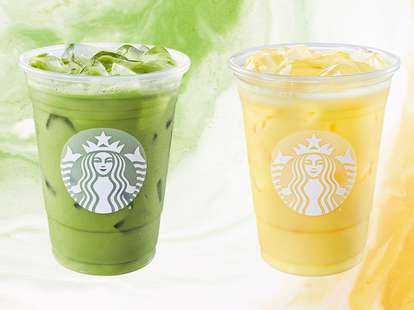 Courtesy of Starbucks
Courtesy of Starbucks
Starbucks is really getting into the spirit of spring with the launch of three brand new drinks -- all of which are reminiscent of flowers in bloom -- on Tuesday. It's enough to get us to whip off our puffy coats and turn our faces to the sun.
As part of its annual spring menu refresh, the coffee chain has introduced the new cold beverages: the Iced Pineapple Matcha Drink, the Iced Golden Ginger Drink, and the Nitro Cold Brew with Salted Honey Cold Foam. There are no new hot drinks to be found. It's "spring," remember?
Both the Iced Pineapple Matcha and Iced Golden Ginger are dairy-free, composed of coconut milk with a bright tropical flavor. The Pineapple Matcha starts with a matcha base and is shaken coconut milk infused with pineapple and ginger flavors, resulting in a creamy and refreshing twist on a classic matcha. The Iced Golden Ginger drink also possesses the spicy taste of ginger and pineapple, but is mellowed out with the addition of turmeric for a smooth and colorful coconut milk beverage. A bonus? Both drinks are delightfully colorful -- a bit of fun amid the dreariness of bitter coffee.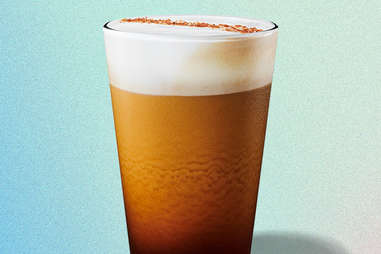 Like its cold brew predecessors, the new Salted Honey Cold Foam begins with Starbucks' Nitro Cold Brew , which is topped with a cloud-like cold foam flavored with salted honey. Atop the fluffy whipped foam is also a stripe of toasted honey, resulting in a refreshing coffee-forward drink that has subtle sweetness, salt, and the warm flavor of honey. You can also swap out the Nitro Cold Brew for Starbucks' classic signature cold brew.
Starbucks' three new spring drinks are officially available nationwide, so even if it's still snowing outside, you can sip on one of the new non-dairy drinks and pretend you're on a warm, grassy hill at a park somewhere. That's what I'll be doing, anyway.
Sign up here for our daily Thrillist email and subscribe here for our YouTube channel to get your fix of the best in food/drink/fun.
Kat Thompson is a staff writer at Thrillist. Follow her on Twitter @katthompsonn.