Starbucks' Newest Holiday Drink Is a Toasty Twist on the White Chocolate Mocha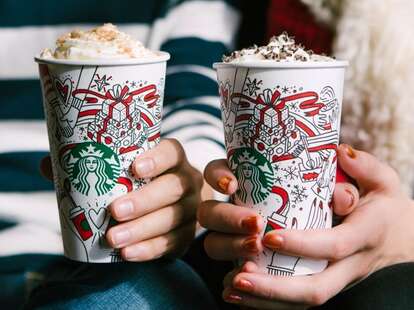 Starbucks more or less officially unleashed the holiday season a little over a week ago with the introduction of its new, decidedly less controversialholiday cup design. Now, the Peppermint Mocha purveyor is giving you something new to sip out of the festive caffeine vessels, with the launch of a toasty twist on its popular White Chocolate Mocha.
On Thursday, Starbucks announced it's now serving the new beverage -- dubbed the Toasted White Chocolate Mocha -- at its locations across the United States and Canada. The limited-edition drink arrives just in time for the start of the company's special free drink deal for five days this week and joins an extensive lineup of other seasonal menu items to help get us through the cold months. This all may be a tad jarring, seeing as the chain was pushing a Halloween-themed Zombie Frappuccino just a couple of weeks ago.
While Starbucks' classic White Chocolate Mocha is easily one of the sweetest -- if not the sweetest -- espresso drink on its menu, the holiday version may be even sweeter. Baristas make it by pouring espresso over the chain's new toasted white chocolate mocha sauce, adding steamed milk, and topping it all with whipped cream and a dusting of candied cranberry sugar. Here's how Erin Marinan, a Starbucks beverage developer, describes it:
"When thinking about a new holiday beverage, we started with the idea of gifts from the heart, and how traditional recipes often become gifts to share. Chocolate is a part of many holiday traditions; it is also a wonderful complement to our signature espresso roast. We took white chocolate and applied a culinary twist by slowly roasting white chocolate to brown the cocoa butter and caramelize the milk and sugar. This deepens the flavor, makes it more complex and brings out toasted nutty notes that linger as you sip the beverage."
In other words, it's like a present that you can drink.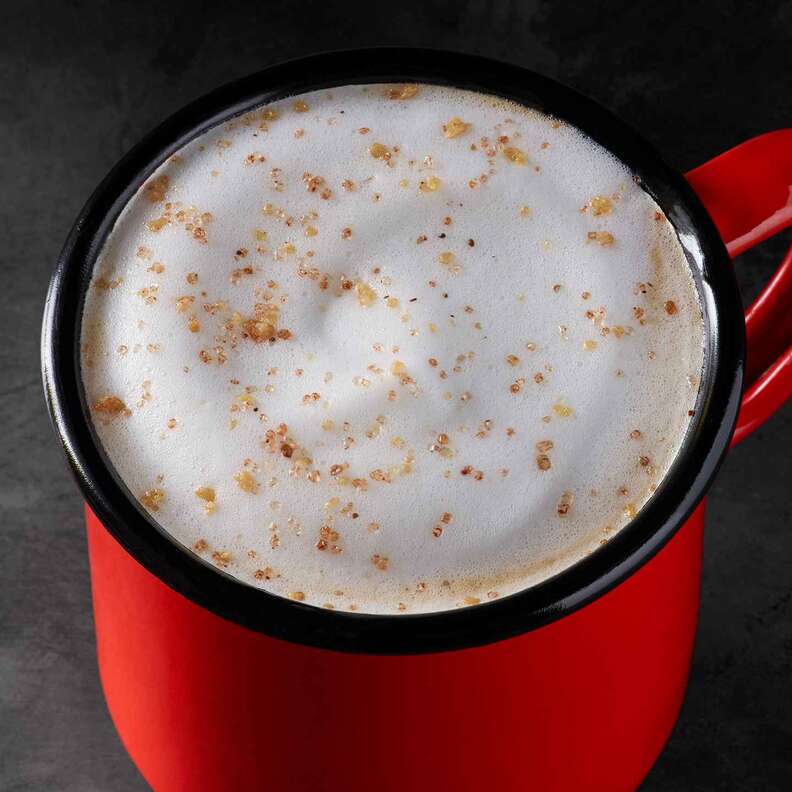 In addition to the Toasted White Chocolate Mocha, Starbucks is also putting a holiday-themed twist on its classic Chai Tea Latte with the new Chestnut Praline Chai Tea Latte. It's basically the lovechild of Starbucks' Chestnut Praline Latte and the chai latte that's been a menu staple for years now. Starbucks describes it as "black tea infused with warming spices, steamed with milk, lightly sweetened with chestnut praline syrup and topped with a sprinkle of spiced praline crumbs."
The new holiday concoctions couldn't come at a better time, considering the aforementioned buy-one-get-one (BOGO) deal for the next five days. You'll be double-fisting the festive cups in no time.
Sign up here for our daily Thrillist email and subscribe here for our YouTube channel to get your fix of the best in food/drink/fun.

Tony Merevick is Senior News Editor at Thrillist and is worried both of these drinks may be too sweet for him. Send news tips to news@thrillist.com and follow him on Twitter @tonymerevick.