The Moon, Mars, & Its Rival Collide in the Sky This Week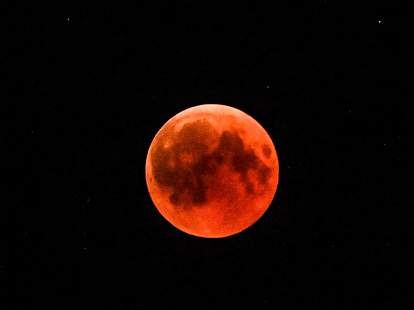 Getty Images / BULENT KILIC / Contributor
Early January is a tough time to be outside looking up at the stars. However, it's a perfect month for casually observing phenomena that can easily be identified out the car window on the way to work. So, pay attention to the sky in the hours before dawn for the next few days.
Mars and the reddish star Antares (which translates to "rival to Mars") will be near each other throughout the month, but they'll come close to a waning crescent moon on the mornings of January 19-21. Throughout that time, you'll be able to see all three objects with the naked eye just before dawn. They'll be at their closest as a trio on the morning of January 20.
The moon will be nearby while both Mars and Antares have a reddish hue and are bright in the sky, making them easily identifiable in the southeast sky.
Antares itself is many times the size of the entire orbit of Mars and about 10,000 times brighter than our sun, per NASA's Jet Propulsion Laboratory. However, it's quite far away so it doesn't look all that different from Mars from the perspective of folks here on Earth. Though, at the moment, Mars is not at its brightest. EarthSky notes that Mars and Antares will be about the same brightness by March and by October, Mars will be about 40 times brighter than it is this month. At that point, it'll be the fourth brightest object in the sky, becoming even brighter than Jupiter, which usually holds that rank behind the sun, moon, and Venus.
Sign up here for our daily Thrillist email and subscribe here for our YouTube channel to get your fix of the best in food/drink/fun.