An American Hotel Giant Is About to Expand Into Cuba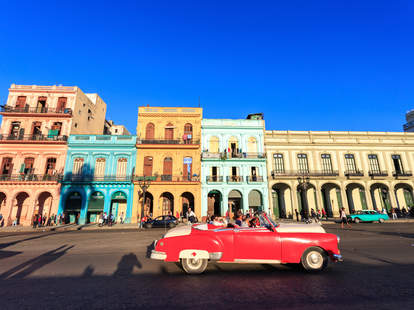 <a href="http://www.shutterstock.com/gallery-913192p1.html?cr=00&amp;pl=edit-00">Gil.K</a> / <a href="http://www.shutterstock.com/editorial?cr=00&amp;pl=edit-00">Shutterstock.com</a>
You might not have plans to visit Cuba under the newly eased travel restrictions just yet, but now, there's a good chance you'll be able to stay at an American-run hotel sometime in the near future, despite the longstanding embargo. Starwood Hotels and Resorts announced Saturday it has signed deals with Cuba to renovate and operate hotels in the Caribbean nation, becoming the first US-based hotel company to do so in almost 60 years, according to a report by the Associated Press. 
Specifically, Starwood has received US government approval to rebrand three existing hotels in Havana, Cuba -- the Quinta Avenida, the Santa Isabel, and Inglaterra hotels -- and reopen them by the end of the year as part of its Luxury Collection and Four Points by Sheraton brands. As explained in the report, the deals were likely unimaginable prior to recent rule changes under the embargo, especially seeing as all Cuban hotels are run by the government and the tourist branch of its military. But as evidenced by President Obama's visit to Cuba on Sunday and his administration's moves to further lift restrictions on travel and trade (think Cuban cigars and booze) in recent days, times are changing. 
The latest rules make it much easier for Americans to visit Cuba, just as long as you claim your trip is for educational purposes and keep a record of your activities for five years. Additionally, travel to Cuba is expected to grow even more this year with plans for more than 100 commercial flights every day from the US, and now, the potential for other US-based businesses to expand there as the trade embargo continues to deteriorate. American visitors to Cuba already increased by almost 80% in 2015, according to the report. However, it remains to be seen if their horrific Internet situation ever improves. 
Sign up here for our daily Thrillist email, and get your fix of the best in food/drink/fun.
Tony Merevick is Cities News Editor at Thrillist and wouldn't mind visiting Cuba some day. Send news tips to news@thrillist.com and follow him on Twitter @tonymerevick.