Which States Love Weed the Most?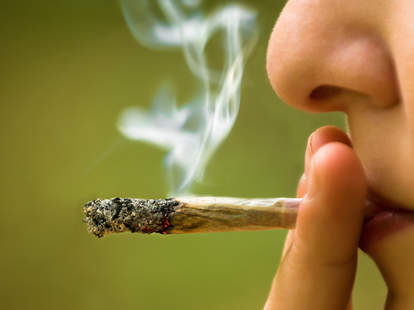 The US's relationship with marijuana is complicated, with some states giving off totally chill vibes, while others aren't chill at all. Making it easier to visualize weed tolerance across state lines, Estately created a map showing where the marijuana love is strong, where you'll most likely be branded a "hippie," and where you frankly might end up in jail.
To determine the most weed-loving states, the real estate website observed five factors: 1. Percentage of marijuana users, 2. Marijuana affordability, 3. Perceived interest in Marijuana, 4. Legal status of marijuana, and 5. Publicly expressed interest in Marijuana. Of course, those sates that completely #legalizedit came out on top; namely Colorado, Washington, and Oregon.
But of those states only permitting medical marijuana, New Mexico, noted for its interest in marijuana-related publications, showed the most weed love. It appears that Maine and Michigan are also totally chill. Take a look:
In general, there's a lot of love on the West Coast and East coast, while Middle America is not so progressive. However, the title of least tolerant belongs to North Dakota, Iowa, and Utah. So, uh, if you're looking to go on a marijuana vacation, stay away from those three.
Check out the full breakdown below, hippie.
Sign up here for our daily Thrillist email, and get your fix of the best in food/drink/fun.
Kara King is a News Writer at Thrillist and a hippie. Send news tips to news@thrillist.com and follow her at @karatillie.